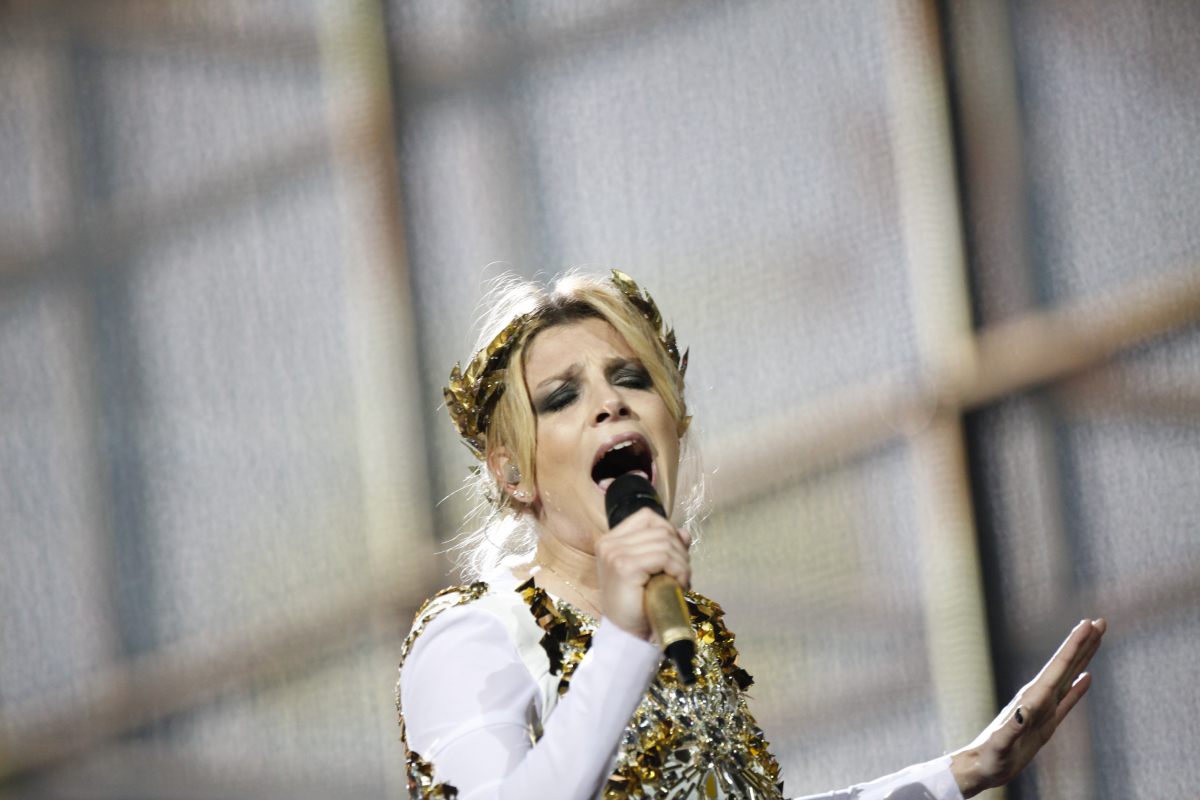 Sorry everyone! The wifi went down in the press centre and I couldn't post the last two today…
See below but, just to scene set, we've just watched most of the red carpet reception in the town hall square. The temperature has plunged here today and it was freezing but we loved the atmosphere there. A huge screen showing a presenter greeting the artists to the red carpet with a couple of chit chatty questions before a preview of the song for the assembled bemused Danes and fannage. At the top of the red carpet the artists are met by two more presenters doing a grand old job of filling in and handing the artists over to the mayor and his wife and the DR executive producer before being allowed into the inner sanctum. We are not worthy so we've come to a local gay hostelry for nourishment… Oh by the way Conchita was the only artist to provoke a large reaction from the assembled, mainly local, crowd. Obviously Basim hasn't arrived yet but it's interesting..
Emma Marrone is our penultimate first rehearsal and she's in lively form. The backdrop is busy and fast in a mainly white theme with eyes blinking and coloured boxes flashing. Emma wears a yellow and blue bomber jacket in the first but drops it for the rest to reveal a violet and black top. Probably not her final outfit. She covers every inch of that stage and uses both the catwalks before finding time to cavort with the band members. Gosh if the set is busy she is busier! There's old fashioned speakers on wheels on stage too for her to avoid falling over and they're a bit reminiscent of a catering trolley from an aircraft. I suppose only I'd spot that but it not sure they're needed. Overall an ok rehearsal with a little work but I liked this.
Ooh Root is up now and there's a lovely rain backdrop with drops appearing to hit the stage too. The main backdrop is blue and becomes whiter towards the end with a lot of light enveloping her by the end of the song. She's wearing white so almost disappears which I'm guessing is the effect they are going for. It might have been better to let the rain come in for the choruses as once it's been on for thirty seconds it loses impact but that's only a small criticism. Ruth kept pulling her ear piece out so not sure if there were issues. Her vocal is powerful if not verging on shouty. With the whiteout effect at the end she's in danger of performing Shouting In The Fog rather than her song's title. All said and done I like her and this song but I don't love it like I loved Pastora. I'm struggling to see her better Pastora if I'm honest.