The Eurovision Song Contest, an annual international music competition that has been entertaining audiences since 1956, brings together the most talented performers from across Europe and beyond. Over the years, the contest has produced many memorable moments, unforgettable performances, and launched careers. However, a trend has emerged among Eurovision winners who choose to return to the competition: their second attempts rarely match the success of their initial victory.
With 2012 winner Loreen returning to the Eurovision stage to represent Sweden in Liverpool, we look back at those who didn't quite recapture glory – and one man who did.
The exception that proves the Eurovision rule
One of the most famous Eurovision winners, Johnny Logan, is the only performer to have won the contest three times. He first triumphed in 1980 with the song "What's Another Year," and then again in 1987 with "Hold Me Now." While his record remains unmatched, it's important to note that Logan's third victory came as a songwriter, not a performer. In 1992, Logan wrote the winning song "Why Me?" for fellow Irish singer Linda Martin. Although Logan's second win as a performer was a success, it is an exception to the rule.
Viva la diva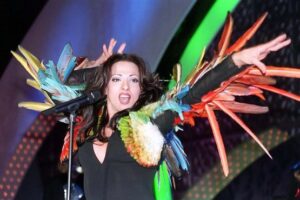 Dana International, the trailblazing Israeli singer who made history in 1998 as the first transgender winner of Eurovision, is another example of a returning champion facing the curse. Her winning song "Diva" became an anthem for the LGBTQ+ community and catapulted her to international stardom. However, when Dana International returned to the contest in 2011 with "Ding Dong," she failed to make it past the semi-finals. This disappointing result underscores the difficulties faced by returning champions.
I'm gonna love you either way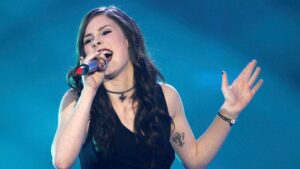 Germany's Lena Meyer-Landrut won the 2010 Eurovision Song Contest with her catchy pop tune "Satellite." This victory marked a turning point for Germany, as they hadn't won the contest since 1982. However, when Lena decided to defend her title the following year with "Taken by a Stranger," she finished in tenth place. Although she made it to the final, her second performance paled in comparison to her initial victory.
Hold on to a dream
Sweden's Charlotte Perrelli, who won the contest in 1999 as Charlotte Nilsson with the song "Take Me to Your Heaven," faced the curse when she returned in 2008. Her second entry, "Hero," was considered a strong contender, but ultimately placed 18th in the final. In an even more surprising twist, Perrelli competed in Sweden's national selection, Melodifestivalen, in 2012 and 2017 but failed to qualify for Eurovision on both occasions.
I've never been this close
Niamh Kavanagh belted out a big old Eurovision ballad "In Your Eyes" and won for Ireland in 1993. Her victory marked the second of three consecutive wins for the country during the 1990s. However, when Kavanagh returned to the contest in 2010 with the song "It's for You," she only managed to secure 23rd place in the final. This result was a far cry from her previous triumph.
A-ba-ni-bi o-bo-he-bev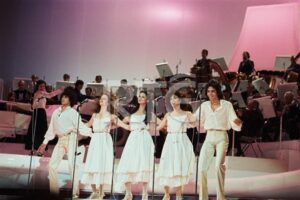 Izhar Cohen made history in 1978 when his song "A-Ba-Ni-Bi," performed alongside the group Alphabeta, brought Israel its first Eurovision victory. Cohen returned to the contest in 1985 as a solo artist with the song "Olé, Olé." Although the song was catchy and upbeat, it could not replicate the success of his earlier performance, finishing in fifth place.
And it's gonna last forever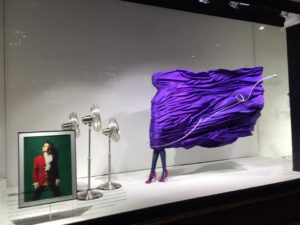 Carola Häggkvist won the Eurovision Song Contest for Sweden in 1991 with the powerful ballad "Fångad av en stormvind." She later participated in the Swedish national selection, Melodifestivalen, in 1997 and 2006. Although her 2006 entry "Evighet" (later translated to "Invincible" for Eurovision) made it to the contest, it only managed to finish in fifth place. Despite her strong vocal performance, Häggkvist couldn't secure a second win for Sweden.
Non ho l'età per amarti
Gigliola Cinquetti won the 1964 Eurovision Song Contest with her emotive ballad "Non ho l'età." She returned to the contest in 1974 with the song "Sì," which was a strong contender, as evidenced by its second-place finish. While Cinquetti didn't suffer as significant a drop in performance as other returning winners, she still couldn't replicate her initial victory.