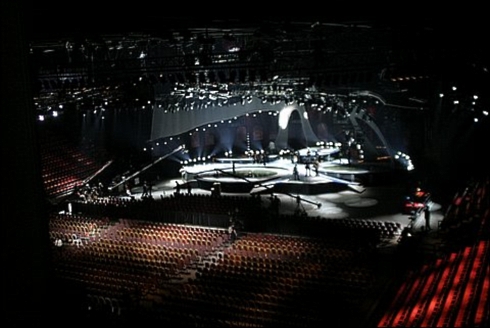 What an exhilarating Eurovision Song Contest. Between the energy of Sakis and Russlana the calm and beauty of Serbia. You could hardly have asked for a better result. With many thanks to Nick and Phil I was lucky enough to have a ticket for the after-show party, held in the grounds of the Fortress of Seven Towers. And what a party. We were driven by coach the short distance between the venue and the castle, and what a fairy tale setting it was. It was a bit like being transported onto the set of the Belarus video. Unfortunately for those of us dressed for a warm spring night, it was freezing cold and I was grateful for the hot buffet. Like every single meal I had in Istanbul, the food was amazing. No sign of kebabs (which I have fallen in love with) but great food nonetheless.
For those who did not have tickets for the party entry consisted of walking to the shuttle bus, with security waving you through like someone important, the bus driver welcoming you and offering to return you to your hotel at 3.30, and then being waved in by security at the event. Nobody that I know was turned away, which was a really nice way to end the weekend, if a little lax on the security front. (Mind you, you could buy forged accreditation passes in the main square all week, so its a good job that the security in the hall was of a different order).
The party started out fairly quietly. James Fox was there, and I saw his mother greeting him. It was very touching, in spite of all the jokes I have made about her. He said that he has a second single and an album to come, and I doubt he would have had that without Eurovision. Other than James contestants were few and far between. I think the fact that the party was not next door may have put people off. Others, such as Xandee and Jonsi, probably were not in the mood for dancing. The girl from Belarus was spotted and made a friend of mine very happy.
There were fireworks which went on for ever, and very good they were too, with some pounding ethnic Turkish music followed by what sounded like someones national anthem. Strangely enough, we didn't actually hear Turkey's national anthem in the hall at all.
There were some awards: past winners voted for Ruslana, composers voted for Cyprus, the press award went to Serbia. The presenter was on the wrong side of tipsy, and it showed. Nobody cared, however. Then Ruslana swept into the castle and the whole thing took on a surreal medieval flavour. She sung her song as party goers and photographers made for the stage. Another excellent performance too. I was so lucky to be right at the front of the stage. She was beaming from ear to ear, as well she might. Here is a star in the making.
Then, as quickly as she was on stage she was off again, whisked off to start her international career in earnest, no doubt. Up next were the Serbians – the whole country it seemed – complete with ethnic instruments and a brass band, if you can believe it, and performed an acoustic dance version of their song for what seemed like about thirty minutes, as the lead singer lifted his hands in the air and danced to the adulation of his supporters. Man and boy, as Terry Wogan would say, I have never seen anything like it. Real live music at Eurovision. They really thought they had won, and I have now found out that of course they did beat the Ukraine in the semi, and so had every reason to be celebrating.
I recognised Svante Stockhelius and congratulated him on the show. He said he was confident that the sound for the final was better than for the semi, and said how upset he was about it. He also said that he had not considered dropping French for the voting. He was surprisingly calm considering what the past week must have been like for him.
After that, there was more ethnic Turkish music, more drink, more food and more saying goodbye to all the people I knew or had met. As always, a really great bunch of fans and the number of friends made increases year by year.
A special thanks to Phil, Nick and Michelle who entertained me and got me in the mood for Istanbul, as well as for providing the party tickets. Now I'm ready for Kiev or, hopefully, Odessa.
Andy B