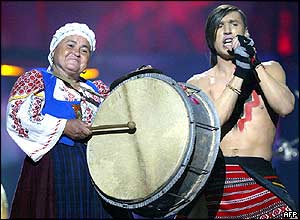 Many many things that need to be said. Firstly, the opening 8 songs are possibly the strongest opening songs that many of us have seen in a Eurovision Song Contest. Sitting with Mr Franko and Mr Delaney and Andrew from AKOE – we decided that they all could have won the Eurovision Song Contest at almost any point in history , they are that strong… Having said all that, it sharply dips from there but slaps you round the face again later on!!

Winners from last night :
1. Moldova – In the Hall this was fantastically received. They perform the ass off the song, Grandma beats her drum and it does down a storm! (I have money on this one if it wins … £30 at approx 37/1 netting me £1150 – I'm scared this might do it)
2. Malta – I don't usually swear on this blog but … Fuck ME! was she good. The Ukrainians, we have noticed, have a penchant for clapping at nothing, however they started clapping after the first verse and virtually didn't stop until the end. This was a fantastic performance of the song and this could well be a danger – once again, I have money on this one (£25 at 14/1) so me happy.
3. Israel – The SVT cameramen may well have a fixation on Shiri's breasts , but the song is fantastic. Again, in the hall the crowd started clapping half way through … they do love their ballads in these parts.
4. Switzerland – Even though this song passes me by and leaves me cold, the crowd loved it and it looked good on camera as well.
5. Ukraine – 'nuff said. Approx 2,500 people in the hall last night and they were very VERY loud. Lord only knows that 7000 people will be like!!
6. Norway – Got them going in the aisles of the hall, the orange scarf on the mic stand will curry local favour
7. Bosnia – It looks professional on stage, evidently an outdated song, but nothing wrong with how it looks, apart from the world's tallest backing singer!
Losers from last night
1. UK – The best song that we have put through in years … however, the song is smothered by what is around it in the draw – it just gets lost by bigger songs and, arguably, better songs
As I write am doing an interview on BBC 3 Counties radio. Just stated that Moldova will be a tip, that there will be 300,000 in Independance Square tonight, 80% of Ukraine should be watching NTU – explained how much it means to them here – Katrina has just come on and I am listening to see what she is saying. Political voting shite has been raised by her – yawn!!!. "UK will never win as we have no friends". She just slated Jemini "dubious amount of talent" lol "Javine will be fine" etc…
And back to the losers from last night. (Ahhhh fame!)
2. Hungary (for me) – starting the show with this kind of thing has doomed them to failure in my eyes. I can see them going nowhere other than home. They have said, however, that they They have come here fully expecting to win – MISTAKE!!! – The two things not to do or say at a Eurovision. 1 – Wave at the crowd (Didn't work for German Michelle in '01 or Angelica 'Avinabash in '05) or say you have won it!
3. France. Ortal (Or Orifice as she has been christened) – just repeats the title of the song, a theme in French language songs this year it seems.
4. FYR(or not) Macedonia – "De boi" and his "cuddly toy" line are just so annoying. He's a chunky lad and that key change still doesn't work!
So, as for predictions (and Nick would never forgive me if I didn't put myself up for a ribbing at this point), I think the top ten could, in no particular order, look like:
1. Greece
2. Moldova
3. Malta
4. Norway
5. Switzerland
6. Hungary
7. Romania
8. Israel
9. UK
10. Sweden
I did have 16 songs in my top 10 LOL