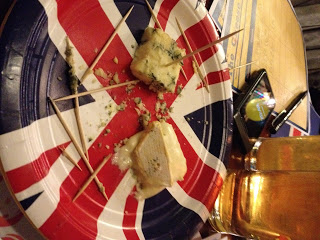 Good morning OnEuropeans, and welcome to day 5 in the London branch of the Baku Press Centre.
It's B-day -1 for me and I'm thoroughly excited. I'm also thoroughly hung over after a night out during which we heard a preview of this year's Eurovision tracks and sampled several fine (and one whiffy) cheeses at the Cheese Fun Do, which raised almost £500 for MacMillan Cancer. A huge well done to Eurovision fan Liam Jarnecki for a most jolly evening.
For you, our fromage entourage, here's a homage to said fromage from last night. The photos are on the slant; it's really because technology is not my friend this morning and I can't get them to turn the right way round, but for artistic purposes I'm going to pretend it's because I'm recreating the way I felt at around half past midnight…
 As you might imagine, I gave myself nightmares after that lot!
But enough cheese, it's on with the business of the day. As that Phil has indicated it's a difficult day in the office for us lot so normal service will not be resumed but we will throw you some tasty morsels as and when we can. I might make my morsels cheese free today though, I think I've turned into a reblochon…
Monty x