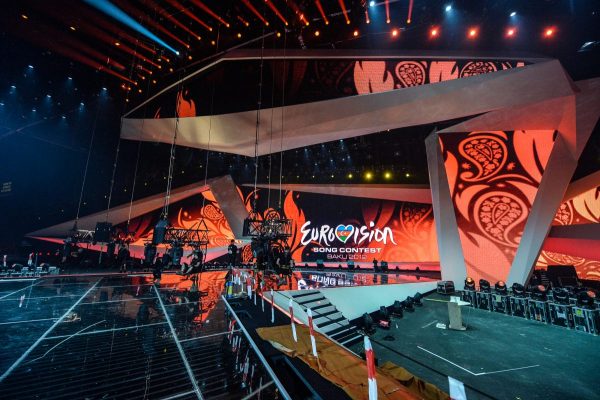 Good evening On Europeans, just time for a quickie (steady!) before we go in to the hall. We have just arrived in the press centre following a lovely evening with other UK fans at the Baku Hilton revolving bar, with a full list of Eurovision cocktails, one for each competing nation. No we didn't manage 42 (they're 12 Man-nuts each and not even I can drink that much in one sitting) but I did choose a Euphoria which was a fruity vodka concoction, and I hope I shall still be Euphoric at 3.30am local time. I have fancy I may be in a body-bag the way things are going on the socialising front: partying is most definitely winning the contest over its opposition of sleeping. We've also just had a final dinner with some of the team from All Kinds Of Everything and a very mysterious Estonian.
So now it's all over bar the shouting. I know several of you will be seeing the whole thing for the first time tonight, and it is admittedly a slow start with the draw, but Enge is up first and then things lull a little for the average viewer until the Babushki come along. From there it's a real vintage year and you're in for a treat, replete with the President's son in law as your interval entertainment. Somehow he's more important to showcase than the past five winners they bussed in for the second semi final. Presumably they have been sent home now?
The press centre is a little subdued to be honest, but so many have been here for two weeks now fatigue is setting in, but once those votes come rolling in we will be as perky as you like, as there's no obvious runaway this year, and whilst most are tipping Sweden, Spain, Italy, Serbia or Russia we could yet have a big surprise on our hands: Valetta or Nicosia 2013 anyone? Or even back here in the Baku Crystal Hall…I'm certainly in.
I'd like to echo Phil's thanks for reading, viewing, and commenting, it has been a true pleasure to be part of this. Enjoy the show, folks, and look out for the flags of all nations being recreated in the lights of this amazing arena before each song starts: they're being shot live and they are spectacular.
Right, I'm off before I have my annual moment when I realise I'm actually AT the bloody Eurovision Song Contest and come over all a bit lachrymose. Oops, there's a tear welling up, I might be just a fraction too late…
Monty x