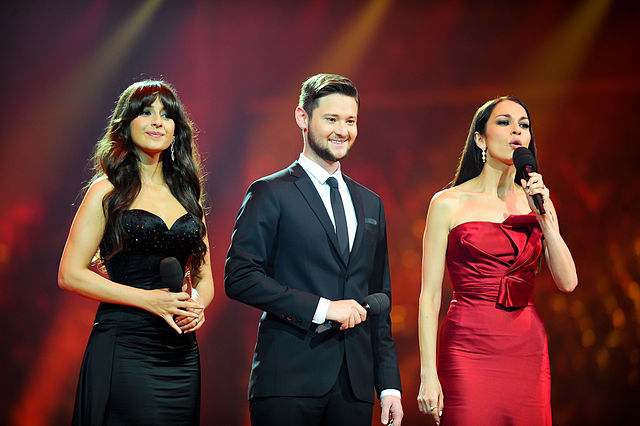 The postcards are nice, showing different regions of the country though in this run through they played the Albanian one for the first few songs before getting it right. Also the video of sights and sounds of Baku wasn't played in the arena, perhaps it's not ready?
MONTENEGRO
The worst opening to a show for ages. He seemed pissed as he was mumbling and he couldn't get his arm through the guitar strap. Is he meant to be acting like this? SUNK
ICELAND
Jonsi wobbled slightly at the start but this is slick with a capital S. When they switch positions at the key change and the lighting changes I was beside myself. SAILING
GREECE
This still seems a long 3 minutes to me and very plodding for what is supposed to be an up-tempo number. I'm worried for the Greeks. BORDERLINE
LATVIA
As a fellow blonde, I'm happy she's stuck with blue but added some diamonds to her frock and taken it in by a couple of sizes and up by several inches. The fanoraks love this and I have to say it's fun and flouncy and I'd never really got it until now. BORDERLINE
ALBANIA
Second goose-bump moment here for me. I hope Europe feels it too. Simply stunning. THROUGH PLEASE!
ROMANIA
A summer hit in the making this is looking and sounding great. People here think it's sailing through. There's something telling me it will make it, but not with ease. It's a bit circusy but it's instant enough and will hoover up the southern european votes. THROUGH
SWITZERLAND
Seems dark and a bit dull after Romania though those pretty boys are giving it their all. I'm worried there are not enough votes for this genre and Hungary may steal some of theirs. BORDERLINE
BELGIUM
This is simply and effective and there are votes for this kind of stuff. JUST THROUGH
FINLAND
Not accessible nor instant enough. Get a stronger wind machine love and blow yourself away. Boring, sorry Finalnd. SUNK
ISRAEL
Jeff Goldblum with silly dancing and quirky camera shots. Mmm, quirky is most definately the word here. MISSING OUT
SAN MARINO
The patient is dead. You can stop CPR now everyone. SUNK
CYPRUS
Quite delicately done for an up-tempo number. I'd never noticed that she's got female dancers and a male singer stage left helping her. It works! I think this is still peeing on Greece's bonfire though it's too dated for juries. JUST THROUGH
DENMARK
Zzzzzzzzzz, but she's got a nice voice. Jury-tastic. JUST THROUGH
RUSSIA
Very wobbly vocally at the start. I am convinced the camera is zooming in on a message on the side of the oven that hasn't been revealed yet. I can't think of another adjective than charming but they are all it. SAILING
HUNGARY
I loved this on audio before the contest, went off it in the previews season but now like it again. I think the lead singer carries it well and will be noticed by the juries. BORDERLINE
AUSTRIA
Visually much better. We really do see it all at this contest eh? But it's such a bad noise, someone call Austrian airlines, they need five seats on tomorrow's flight. SUNK
MOLDOVA
I'm slightly biased as I love him but this is a slick as you like fun and frolick. If I were his backing dancers, I'd let him ride me like a gondola too. Is he wearing jodhpurs? SAILING
IRELAND
Cue jokes about golden showers. It's all naff as you like but I'm liking the hair down look. The song is still flat for me but I think it's irrevelant. SAILING
So looking at all of the above, I think there are 5 definates…
Iceland
Romania
Russia
Moldova
Ireland
then a large group of maybes and (in order of their chances) I think they are..
Denmark
Albania
Cyprus
Greece
Belgium
Hungary
Latvia
Switzerland
and the rest are sunk..
Montenegro
Finland
Israel
San Marino
Austria
So that's got Belgium just pipping Hungary to the tenth spot but what do I know?  I'm not convinced there is a place for Greece and Cyprus and would happily have either of the rockier ones from Hungary or Switzerland in Greece's place. But Greece ALWAYS qualify eh?
Enjoy the show everyone!
Rosé