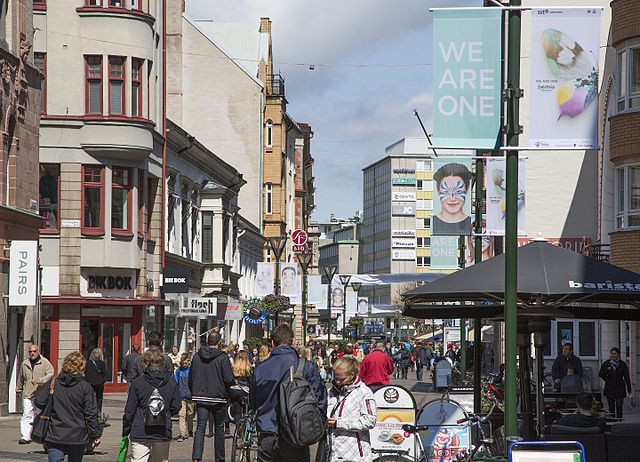 Well what a fabulous show it's going to be tomorrow night. The Swedes have done just about what I thought they'd do and highlighted their quirky yet slick way of doing things. They've taken a page straight out of the London 2012 handbook, show the world what you're famous for and mix it up with a bit of laughing along with yourself. Gratis Sverige! Europe, you WILL enjoy the show tomorrow. The draw is awesome whether you agree or not with the way it's done, the result is a balanced mix of styles and will hold your attention. Feel sorry for France and a little worried for Bonnie as she follows Romania so that must take a few televotes off her but I think she's charmed enough people here to get a half decent result. Left hand side? Hopefully, I'm saying 11th to 15th.
So the show…
As the echoes of Loreen's winner from last year ring in Eurovision 2013, a caterpillar is seen emerging from the shadows of the Baku Crystal hall to wend its way through a Southern European summer and a Northern European winter all the way to the host city where it becomes the logo butterfly.
A choir onstage begin Björn and Benny's specially commissioned piece which heralds the entrance of this year's finalists across the arena bridge over the crowd carrying flags in tru Olympic style. A nice and obvious touch after last year's Olympics. It's a stirring piece and will be a big moment in the arena for sure and first goose-bump moment for me. There are a few to come!
Pink ball gown for Petra! She's got some kind of fascinator/fantasiser in her hair unless she's left her rollers in? There's another nod to Australia with a live shot of a family watching down under yet all asleep because of the time change.
I'm totally spent describing the performances now and you must be sick of reading them now so I'll allow myself five words only for the 26 entries. Here goes..
FRANCE
Churning start, hell to come!
LITHUANIA
Improved, come to bed eyes
MOLDOVA
Stunning, that is flaming good
FINLAND
Finnish lesbians will be heard
SPAIN
Lovely sunshine will go unnoticed
BELGIUM
Roberto you're enjoying it now
ESTONIA
That's a ballad and some
BELARUS
Performing before many flaming puffs
MALTA
Gianluca just got even sweeter
RUSSIA
All about that last minute
GERMANY
Now the real party begins
ARMENIA
Well except for this drivel
The night just gets going with Russia followed by Germany then Armenia takes the night off the rails, a dull start to the break here but saved by FABULOUS LYNDA WOODRUFF. A great skit on Stockholm with lots of ABBA references and even a nod to the Hump! Netherlands after the break which is surely a bad draw for Anouk?
NETHERLANDS
Extra break time, ta Holland!
ROMANIA
Anouk who? Delicious Eurovision nonsense!
UNITED KINGDOM
Stop talking about Romania, Europe!
SWEDEN
Star date 2013, arena hysteria
HUNGARY
Mish mash mosh, plodding loveliness
DENMARK
Book your Kopenhamn rooms now
ICELAND
Powerfully emoting, still old hat
AZERBAIJAN
Seductive. Baku hotel on standby?
GREECE
I'm seeing credits rolling here?
UKRAINE
Schmaltzy rubbish, this will fall
ITALY
Sublime, soaring, scrubbed-up well Marco!
NORWAY
Chuffed she has fab draw
GEORGIA
Hate myself for loving this
IRELAND
Irish love'll finish you (off)
There's a frock section next with Petra revealing her designer is non other than Jean-Paul Gaultier who is present tonight. Apparently he's designed all the crew's outfits too, cue shot of a cameraman trussed up in a joke bodice.
Loreen is up next with an absolutely amazing segment reprising My Heart Is Refusing Me and Euphoria and starting with her new track. I loved this and she's winched up into the rafters with dancers before moving to the satellite stage with a huge dress trail. It got snagged on the back of the stage so the wind machine effect was lost but that won't happen tomorrow will it?
The voting closes before we are treated to a self mocking Swedish video piece which is slightly starange then a fabulous Swedish Smorgasbord interval act done by Petra and varios noteworthy Swedes. This is fun fun fun and consists of a gay kiss and Carola being literally taken by a storm wind machine in a genuine laugh out loud moment. Well done SVT!
Just when you think it can't get better, Eric Saade is smouldering in the green room, I swear if he interview Farid from Azerbaijan I'll have a moment! Another fabulous piece on the contest's history with a lot of Petra silliness and ABBA of course. Great. Though Linda Martin probably won't approve! (You'll see)
And so to the results with an absolutely spot on version of The Winner Takes It All by Sarah Dawn Finer in her natural habitat, the satellite stage podium. Cue goosebumps! There's STILL talk ABBA will appear here and there certainly was a bit of a rehearsal kerfuffle here. We're SVT hiding something? Only time will tell…
Then it's the results…
So this is my guestimated positioning for tomorrow, but what do I know?!
Bottom 6
FRA
SPA
ARM
HUN
BLR
LIT
16 to 20
NET
FIN
ICE
MAL
MOL
11 to 15
UKR
ROM
UK
SWE
IRE
6 to 10
BEL
EST
GER
ITA
NOR
Top 5
RUS
GRE
GEO
AZR
DEN
I see Denmark winning with Azerbaijan second and Georgia third, Greece potentially fourth with Russia fifth, Norway sixth and Italy seventh. I see Germany with respectful eighth and surprise top tens for Belgium and Estonia. I'd love to see our Bonnie in the top ten but I think she'll just miss out on the left hand side.
What do you think?
And…… I'm done! Over analysed now so in need of beers!!
Enjoy, more news later. Is it over yet?
Rosé