I'm on my travels again, OnEuropeans. After the preview party in London I've headed to Amsterdam for the huge Eurovision in Concert. The preview party is now in its tenth year, and they've gone big this time, moving out of Melkweg and into the enormous AFAS Live Arena. Although recent editions have sold out very quickly it's a bold move to take on such a large venue. Will it pay off?
I've headed over a day early for the OGAE Netherlands pre-party. This has taken over the vacated Melkweg, although in the smaller hall next door. It's packed to the rafters when I arrive, and it's kicked off so early I've missed the first of tonight's guests, Justine Pelmelay. Of all the acts she's the one I wanted to see as well. But the club has an impressive line up that also takes in Nathan Trent, Greta Salome, Emilie de Forest, Esther Hart, Poli Genova, and 1973 winner Anne Marie David.
Nathan's on when I get there, but I'm so busy saying hello to people I don't really pay him much attention. Esther Hart gives a great set, full of nostalgic covers that hits the spot perfectly. Anne Marie David surprises us by kicking off with 'Love Shine a Light', then into 'Boom Bang A Bang', in which she takes quite a liberal approach with the the lyrics (as well as, in places, the tune). I'm starting to wonder whether she has a set planned around all the UK's winners, but she foxes everyone by singing 'Algo Pequinito'. It's not one of my favourite songs, and I'm crossing my my fingers nobody invades the stage and she has to start it again. But she pulls it back again with her own two Eurovision songs, and an emotional tribute to Lys Assia & France Gall.
I have a sit down at this point and chat with a very jolly English teacher who tells me about her trials and tribulations of taking a group of 50 sixteen year olds to London. I don't envy her, but I do admire her marvellous footwear (which is killing her, hence the sit down). I'm just sat with her out of sheer laziness and not being bothered to stand. We have a break in the show then it's all back in for part 2.
Greta Salome opens, with a lengthy violin piece. I don't last the distance, and go to the loo, only to get distracted gossiping on the way back so I miss most of the rest of her performance. Emilie de Forest comes on, who I last saw in a hotel lobby in Manchester after interviewing her for the OGAE UK Convention last year. Highlight of the live acts is Poli Genova, who now feels like 'one of us' in the Eurovision community. She does a cover of 'Euphoria', which is fast becoming the go-to track to cover at a gig like this, and in doing so becoming a bit passé, but her own two Eurovision songs are belters and she does a great job.
Then it's over to DJ Louis Klomp, who provides the soundtrack to one of my best nights out dancing to Eurovision bangers in ages. I had so much fun, and it was a great party. My dancing might be done for the weekend though as I miss my step on the way home and bugger my knee, so I'm resting in a coffee shop now (not one of those ones…) in the hope it will withstand a boogie later.
The big night
It's more of a schlep than usual to Eurovision in Concert, as the new venue is out of town (though not so out of town as the second one where we all had to get pre-booked coaches back). We head over to the arena where there's already a big queue. I was interviewed for Dutch TV outside, answering questions about previous entrants. I also did Netta's chicken dance, so I'll probably end up as a meme. They seemed to enjoy me, so let's see if any of it ever makes the light of day.
Inside the venue is enormous, but filling up nicely. There's some unallocated seating at the back which is great news for my poorly knee, so we sit there to watch the show, even though it's further back from the action than I'd have preferred. I was worried about the venue being too big, but I needn't have, it worked fantastically well, even with a big stage for the artists to fill. An LED backdrop helped with the visuals to the back of the hall.
The Eurovision In Concert's own channels will have videos of the performances later this week, so you can judge for yourself who sounded best, but to be honest I thought almost everyone gave a great show. A treat for UK fans was SuRie stepping in for an unwell Emilie from Madame Monsieur, who was at home in Paris. With little notice SuRie sang a terrific version of 'Mercy' in English, which will have endeared her to new fans. It's probably not the first time us Brits have had to bail the French out, but it was a lovely Entente Cordiale.
Personal highlights of the show included Arenia, Austria, Finland, Macedonia, and surprisingly, Albania. Malta too sounded great pumped up to the max and belting out in such a big setting. San Marino was still a mess, It's Me Jenny B being a tad on the singed side of overcooked.
Netta from Israel stole the show, delivering a great vocal and promising this was just a taster of the show to come in Lisbon. I can't wait to see this there. Comedy moments of the night included my companion's well timed quip about the Swiss siblings ("Well, they're no Sobrals, are they?"), and special guest Sandra Kim's ticker-tape explosion, which promptly caught on the lighting rig and hung there for the rest of the Second Act.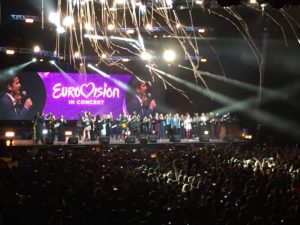 We skipped the official After Party, partially as my knee was not up for dancing (I hope it clears up in time for Lisbon) and partially to pursue other nocturnal pursuits in Amsterdam. Unable to get into the tiny Fame bar playing Eurovision classics, we set up camp outside the Amstel 54 next door for some al fresco beverages. The dulcet tones of those lucky enough to have squeezed in to Fame could be heard murdering Cascada's 'Glorious' across the road to the al fresco pissoir as I availed myself of its facility. It was a shock to the system to realise that we possibly always sound so tuneless.
No visit to Amsterdam is complete without a decent portie of Vlaamse Frites at 3am, smothered with spicy chilli sauce, and this night didn't disappoint. Thank heavens for the Chipsy King late opening. Delicious.
A lazy Sunday was the perfect close to the weekend, lunch with friends who live here is always an added bonus after this Eurovision weekend. Thank you to OGAE NL and the entire Eurovision in Concert crew for their brilliant organisation, and another fun weekend in this lovely city.