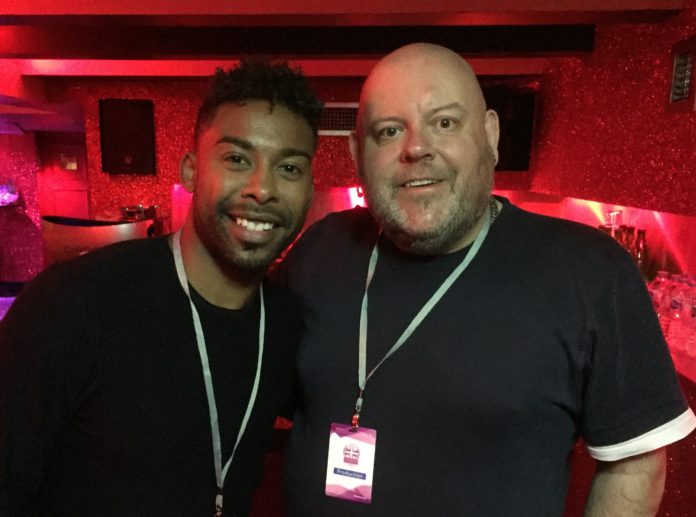 Hello from home. I'm having serious FOMO this year as I look at all the sun-kissed beach photos and the impressive EuroClub, usually my home from home for the Eurovision week. I'm sorry not to be there in the field this year, but I've committed to buying a modest flat in London, and at several times the participation fee of a smaller competing nation, doing Eurovision in one if the priciest host cities just wasn't feasible. But oh, how I'm longing to be there.
Outside of the bubble it feels like Eurovision is enjoying some of its highest profile in years. Today the BBC's Newsbeat has published an article with potential to change perceptions of the Contest. It looks at its popularity among a crucial youth audience and persuades the reader that their old perceptions of the show have little to do with how the modern Contest has evolved.
It reflects Eurovision's long-held popularity among an LGBT audience, and it's the wider LGBT scene where we see most support. Next week's Boyz magazine will feature a cover of SuRie flanked by several drag queens, each of whom will host a different Eurovision event in popular bars like The Two Brewers who are screening the semis as well.
East London's Rio cinema is gearing up for a return of its Eurovision party, and the London Evening Standard has published a list of the city's best Eurovision viewing events, which include the German themed bar Bierschenke and the Bethnal Green Working Men's Club.
Further afield, Brighton's Duke of York cinema is once again hosting its legendary screening. Manchester's Village has already kicked off a week of events, culminating in the OGAE UK and Manchester Calling party, with special guests SuRie, Suzy, Lindsay D, and reuniting the original Belle and the Devotions for the first time since, well, 1984, probably.
The Southbank's Underbelly Festival hosts Alternative Eurovision on the eve of the Contest, and for a truly alternative experience London's Scala will host Euro Noize the Friday after. It bills itself as a Eurovision inspired event with "a bizarre cast of DIY, alternative and underground subpop bands". With Estonia's Winny Puuh in the line up they're not wrong.
Of course, some of the attention isn't about celebrating the event. Israel is a controversial host nation, and the Observer uses its Dispatch feature today to focus on Tel Aviv and discuss the Contest in the context of the ongoing conflict between Israel and Palestine. A search of the newly special emoji-ed #Eurovision on Twitter will bring up plenty of criticism as well as excitement ahead of next week's events.
Calls for boycotts remain, extending to the rumoured participation of Madonna. This itself is still mired in mystery, with the EBU's handbook published last week appearing to confirm her, only to be deleted and replaced with a version that has removed any mention of her performance.
I've sat at home this week distracted from work, life and having to order take away as I've devoured the reports from the rehearsals and watched the titbits of footage we've been allowed to see. I've watched as fortunes have risen and fallen in the betting, and I've shifted my own opinions on a number of the songs.
In my Countdown review I had a sneaking suspicion that Australia would do better than many were then predicting, and Kate's presentation now looks highly impressive. Azerbaijan has an intriguing presentation, and I can't wait to see the full impact of staging like Norway's, Malta's, Russia's and Italy's. I'm even swinging round to North Macedonia, who I hope will turn their misfortune around and qualify this time.
The pre-Contest hype of Hatari seems to have subsided somewhat, perhaps as they've arrived in Tel Aviv and not (yet) engaged in anything highly controversial, but most of the viewers won't have yet seen them, so we shouldn't play down their impact on the night.
If the hype is swinging anywhere it's behind Bilal from France. I was surprised by how divisive this entry was when taking the temperature of my Countdown review on my own Facebook page, but that was nothing compared to some of the frankly shocking vitriol for Bilal and his dancers that's appeared online. Dislike of a song is fine, but the language in which this has been couched and directed at the performers has no place in our commentary for those fortunate enough to be granted the credentials to report.
France has shot to third in the betting, with aggregator site Oddschecker adding a Eurovision shortcut to its front page today, suggesting interest is high for a flutter. If this really is emulating the kind of build we saw for Conchita in 2014 then what more fitting tribute to the hatred Bilal has endured than a successful result?
As I console myself for not being in Tel Aviv, I'll be watching tonight's Orange Carpet event at 19.00 local time (5pm in the UK) and resolving not to miss it again next year. I might pop in during the week for a catch up, but if not, have a fab Eurovision everyone!
Monty x