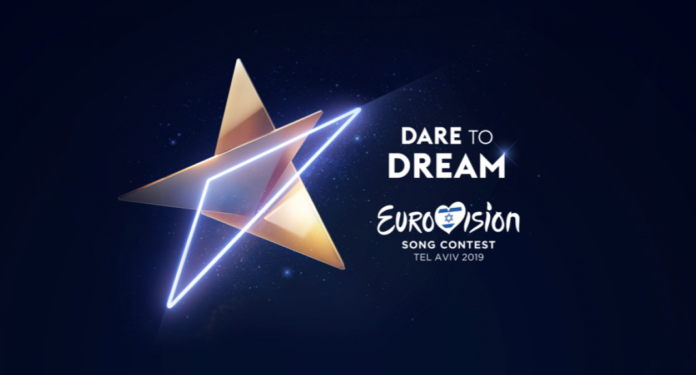 The team behind the Eurovision Song Contest today revealed the logo for 2019. The Contest takes place under a slogan of 'Dare to dream'. The dream in question appears to be three triangles.
Each year the Host Broadcaster of the Eurovision Song Contest creates a slogan. They also  design complementing artwork. These visual elements strengthen the message of the event.
Slogan
Branding agency Awesome Tel Aviv came up with the slogan. A press release claims it "symbolises inclusion, diversity and unity". 
The first time Eurovision used an official slogan was in 2002. Estonian ERR chose A Modern Fairytale for the contest in Tallinn.
Eurovision logo
Studio Adam Feinberg melded three triangles for the logo design. A press release rushed to gush and call it "a cornerstone symbol found universally in art, music, cosmology and nature, representing connection and creativity."
This year's logo takes inspiration from Florian Wieder's stage design. His concept uses triangular shapes and structures.
Tickets
Along with the slogan reveal, organisers announced delayed ticket sales are to kick off after the semi-final allocation draw on 28 January.
As a rule, tickets go on sale in two or three waves. The official ticketing partner for 2019 is Israeli agency Leaan.
The 64th contest is organised by the European Broadcasting Union (EBU) and Israeli broadcaster KAN. It takes place at Tel Aviv's Expo Centre on 14,16 and 18 May.
Image Credits: EBU/Kan.