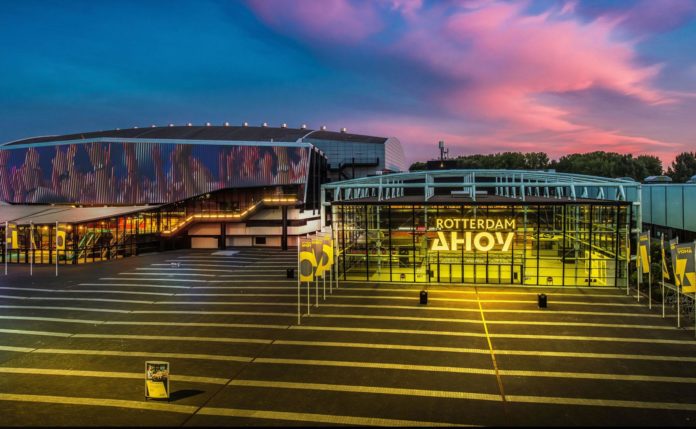 The public may be allowed to attend the Eurovision Song Contest in Rotterdam Ahoy in May. The Dutch government has announced plans to use the Contest as a test run for how larger events might safely take place with a live audience, even as infection rates remain high in the Netherlands.
NOS reports today that up to 3500 people may be allowed to attend each of the nine shows – six rehearsals, two semifinals and the final. Ticket holders must have a negative corona test result to be allowed in.
In recent months, the EBU considered four scenarios to allow the Eurovision Song Contest to continue. The focus fell on bringing all 39 participating countries to the Netherlands, with extensive corona measures and a testing regime.
"The fact we now have the opportunity to stage a Eurovision Song Contest with an audience again is something we could only dream of," said executive producer Sietse Bakker.
In the coming weeks, organisers aim to provide clarity about safety measures and how ticket sales might take place. With travel restrictions currently in place across the world, any audience will be most likely restricted to Dutch fans.
The government plans could still be scaled back if there is a new peak in infections.
EBU responds
Speaking for the EBU, Eurovision executive supervisor Martin Österdahl said: "We welcome this decision by the Dutch government and the possibility that we can invite fans to join us as we bring the Eurovision Song Contest back in May.
"We will consider the options now available and announce more details in the coming weeks on how we can safely admit audiences to the Ahoy venue in Rotterdam should the situation allow. The health and safety of all those attending the event remains our top priority."
No contact with performers
The EBU added, "as previously announced, all delegations, artists and production crew will be following a strict protocol and would not come in contact with potential members of the audience under any circumstances."
A recent test concert in Barcelona included a Covid-19 test in the price of tickets. On the day of the show, ticket holders had to attend a testing centre. If negative, they were given a code to activate their ticket and granted admission.
Image Credits: AHOY.