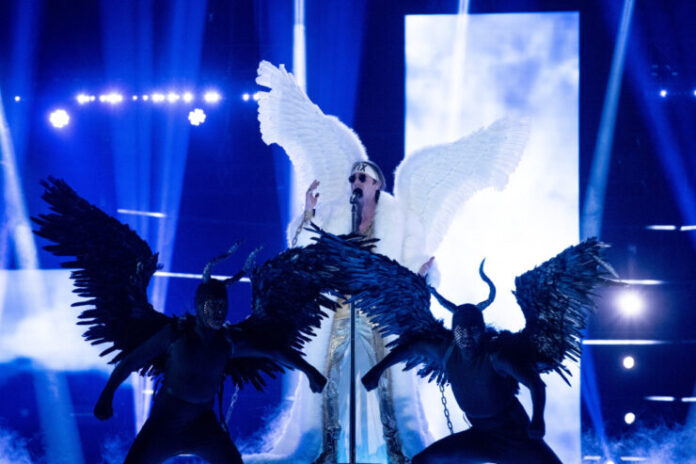 Fallen Angel by Tix
I was super excited about this year's Norwegian Melodi Grand Prix as a real-life friend was taking part: Big Daddy Karsten. I loved his upbeat song of relationship positivity that fought heteronormativity, but I didn't know what his competition would be. I tuned in for the first weekly announcement and discovered two surprises. Firstly, as Karsten was quick to point out to me, that TIX is one of the biggest current stars in Norway, and secondly that Keiino were making a surprise reappearance. All bets were off; even with 20 songs still to be revealed it seemed likely that the final result would be a two-horse race.
Many international fans underestimated the domestic favourite, but ultimately TIX's fanbase saw him the clear winner. The song is mid-tempo, and rather plain to my ears. The lyrics add a hint of ambiguity, playing with the idea of a woman so out of TIX's league who may be a figurative angel, so pure she belongs in heaven, or a literal angel having carked it. If she's still alive he's wrestling with his inner voice that he's not good enough for her; if she has passed on he's lamenting his missed chance.
In other hands this vague lyrical distraction could be the most interesting thing about this, but TIX is going all out on the stage show. He's in his own set of enormous angel wings, bedecked head to toe in white fur and glam rock silver. He's so heavily draped in gold bling it could anchor him to the spot but it's not the only thing keeping him tethered. He's literally chained to his own demons as six black-clad devils mince around him like half a dozen Hallowe'en go-go boys in a gay bar. I guess it's in keeping with the theme, but frankly; he looks like a tit.
I'm led to believe it's a trademark look, but I fear Norway has fallen into the trap of sending someone deeply connected to the audience at home, who no bugger voting will have any idea of on the international stage. There are a lot of songs battling for a spot from semi-final one, and while TIX will certainly stand out, I'm not at all convinced the song is strong enough.
My marks: 4 points
Will it qualify? Maybe