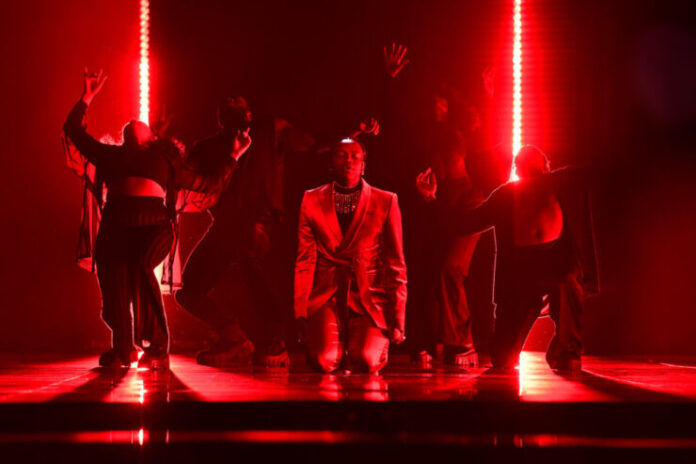 Voices by Tusse
Well, this went big in the Swedish Melodifestivalen! Despite the return of pop's popular Eric Saade and The Mamas v Dotter rematch it turned out the 2021 Melfest was to be a landslide victory for a debutante artist, Tusse.
I expected Tusse to score well with the Swedish home crowd: his recent victory in Swedish Idol placed him firmly in the audience's consciousness, but his personal history elevates him as a success of Sweden's generous refugee programme. Having arrived as a solo child asylum seeker aged only 13, in just 6 short years he's grasped every opportunity his new home nation offered to further his musical career. What I wasn't banking on though was his popularity with the 50% international jury, oblivious to this back story and voting only on the basis of the song.
I'm surprised because I didn't feel the song alone had the edge over Saade's modern, sleek entry. Yes, it has that anthemic feel, and it's middle of the road enough to pick up a lot of mainstream support, but to top the international vote was unexpected, coming top with 4 of the 8 juries, and second with a further 2. Domestically Tusse cleaned up, scoring maximum marks in each aged sub-category in the televoting. It's difficult to argue with that kind of support – he won over 91% of the maximum score available to him.
In a year with no clear front runner this is exactly the kind of song to watch. Having demonstrated its ability to garner international support this has the kind of cross cutting appeal to pick up a consistent string of 6s and 7s from every jury, whilst the bigger entries divide the top marks between them. This could be just enough to cut through as a compromise winner. I think there can be few fans who would begrudge Sweden their record-equalling 7th victory soon given their commitment to the Contest, but you'd be hard pushed to find many who would want it to be with this. I wouldn't rule it out, though.
My marks: 7 points
Will it qualify? Yes