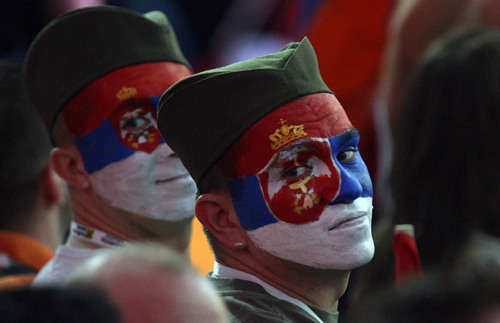 I've just been reading in the BBC World Serbian section about how they hope that Eurovision will help the rest of Europe see it in a much better light. Well after what we witnessed from the hall last evening from some of the regular locals they'd better hope that some of their people don't let 'em down.
The Albanian booing and hissing is well documented, but it's pretty horrible to sit in among when it's going on, given some of the very recent history of this place. But there were also a few other causes for concern. The very normal looking family of old ladies and nice girls in front of us repeatedly gave big thumbs down to anything Ex Yugo that wasn't Serbian, and many people around the hall gave an apparent nationalistic hand sign when their song was on.
Now this may be just down to my naive interpretation of local rivalries, as I'm sure an English entry would afford similar hand signs in Scotland if ever our scabby isles were dismembered into their constituent parts, but given what we know, it perhaps wasn't the best advert for a country I've had an absolutely smashing time in, and really enjoyed the company of pretty much every local I've met.
Just be prepared for a fair bit jeering when anything remotely Albanian is mentioned on the telly tonight.