SBS Head of Eurovision Delegation, Paul Clarke, has revealed that Isaiah Firebrace was not the first choice to sing for Australia this year.
Speaking after the young singer was named as the Australian performer, he admitted that other artists had been approached ahead of Isaiah but had declined the chance to represent Australia.
'There's a number of people who said "maybe I won't follow Dami Im"' Clarke said.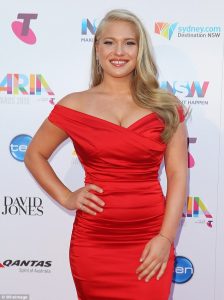 Despite this admission, Clarke went in to compare Firebrace to Marvin Gaye, and predicted participation in the contest would propel Isaiah's career into the stratosphere.
The selection should prove a significant boost to after his debut single, 'It's Gotta Be You' became the lowest-charting X Factor winner's single ever, peaking at number 26.
Another former Australian singing competition winner will go head-to-head with him in May. Former The Voice Australia champion Anja Nissen, 21, is set to represent Denmark.
Recently Anja poked fun at overseas news outlets in an Instagram post, which highlighted how she was labeled Danish in 2014 when she won The Voice, and then Australian since she's been announced as Denmark's Eurovision representative.
Related articles