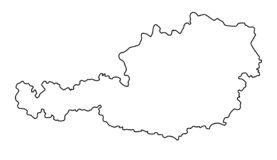 Some countries have had a patchy relationship with our favourite TV show. Take Italy for example. They took over a decade out, and have been pushing for a win since. Then there are our friends in Austria. It's been a bit love/hate over the years.
In the early part of this decade, broadcaster ORF was in, then out, then in, then out. They made the final in 2004, then took part twice in the next six years. Then in 2011 along comes today's birthday girl Nadine Beiler. ORF may not have had high hopes, but Nadine proved many people wrong and made the Grand Final in Düsseldorf. Second on in her semi-final, she even got a maximum. In the final, she got another maximum and a clutch of other points. So, she didn't win, but the next time Austria made the final, Nadine's fellow countryman only went and won. That makes Nadine a trailblazer of the highest order.
Nadine is 30 today.
Frohe Geburtstag, Nadine!