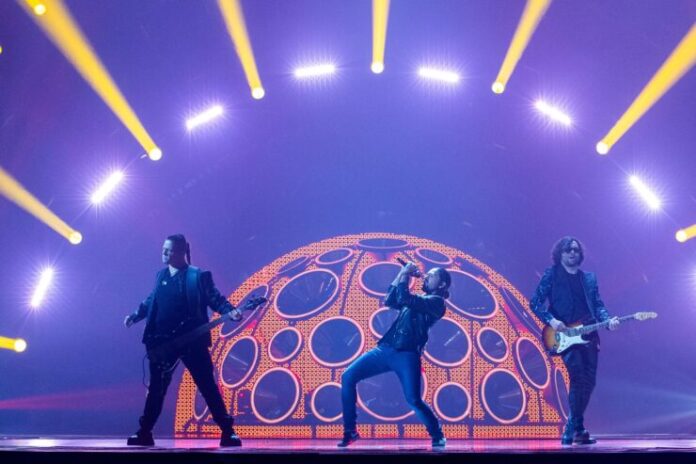 Well this is certainly a thing. I thought I would absolutely hate this song when I got to see it on the stage and, worryingly, I don't dislike it as much as I expected. It could be because the rest of the songs so far today have been so damn slow, that this one really does come as a breath of fresh air.
It's staged like a proto-Europe (the band, not the continent) gig and the side-by-side camera shots at the beginning are really effective and in lieu of having any actual amps on the stage, the akinetic sun has projected speakers.
There is a lot of the old distraction technique going on here, with bright lights and the stage doing all sorts, especially in the second half of the song, and they even employ the trick of having yeah-yeah fire on the stage towards the end. All of this while taking your ears away from the painful lyrics. Whilst I despise it with every fibre of my being, I can now make the case for this one qualifying, in the absence of anything else in the first six, save Ukraine being half-way decently staged.
Time for Bulgaria! We go to Castel del Monte where the IMP members are seen projected on the woods. We fly up to a castle where they're all projected on the wall. Time for Intention! #Eurovision

— up in space, Dan 👩‍🚀 | 🇸🇪🇬🇧🇳🇱 (@vDanDesign) May 4, 2022
So putting aside everything else I think about #Bulgaria and watching if semi-objectively, they've done poor job on it. Drab visuals and an energy free performance – if their svengali wants the 'music to speak for itself' he's fxcked! Leaden and cliched in every way. #Eurovision

— EurovisionApocalypse (@ESCApocalypse) May 4, 2022
BULGARIA
Ironically, this standard rock band setup feels like it lives very much in the safety zone – though sadly not in terms of their qualification chances.

We know there's pyro to come (they don't use it in every rehearsal), but on the whole there are no surprises here.

— Eurovision Insight (@ESCinsight) May 4, 2022
Image Credits: ESCPlus.