Cyprus is set to participate in the Eurovision Song Contest 2023 in Liverpool, United Kingdom, having internally selected Andrew Lambrou to flex his muscles on stage (and sing, possibly).
Cyprus has participated in the Eurovision Song Contest 38 times since the island country made its debut in the 1981 contest. Its best placing was at the 2018 contest where Eleni Foureira placed second with "Fuego". Last year, "Ela" performed by Andromache failed to advance from the semi-finals.
Eurovision selections
Cyprus has used various methods to select its entry in the past, such as internal selections and televised national finals to choose the performer, song or both to compete at Eurovision.
On 28 May 2022, it was reported by OGAE Greece that the label Panik Records had signed an agreement with CyBC in order to select the Cypriot artist for 2023 through a Greek-Cypriot talent show based on the British reality television music competition All Together Now. However, such plans were pushed back to 2024 with the broadcaster switching instead to an internal selection.
On 17 October 2022, CyBC announced that they had selected Australian-Cypriot singer Andrew Lambrou to represent Cyprus in Liverpool. Lambrou had previously attempted to represent Australia at the Eurovision Song Contest in 2022, placing seventh in the national final Eurovision – Australia Decides 2022 with the song "Electrify"
Who is Lambrou?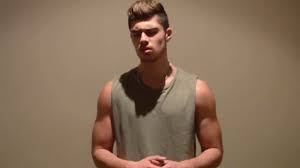 Lambrou was born in 1998 to a Greek-Cypriot family. One of his grandfathers is from Paphos, Cyprus, while he also has roots from the island of Lemnos, Greece.
At age 5, he won first place in an eisteddfod held by the school, singing "Do-Re-Mi" from The Sound of Music. The same year, his mother enrolled him in music school, realising he had a musical inclination.
Lambrou first gained attention in 2013 after a uploading a cover of Evanescence's "My Immortal" to YouTube. A 15-second cover of Sam Smith's "Stay With Me" uploaded onto Instagram was shared by a music page in Spain and earned Lambrou over 2,000 followers overnight.
In 2015 Lambrou took part in the seventh season of The X Factor Australia. He was eliminated after the super home visits, just prior to the live shows, placing him in the top 20