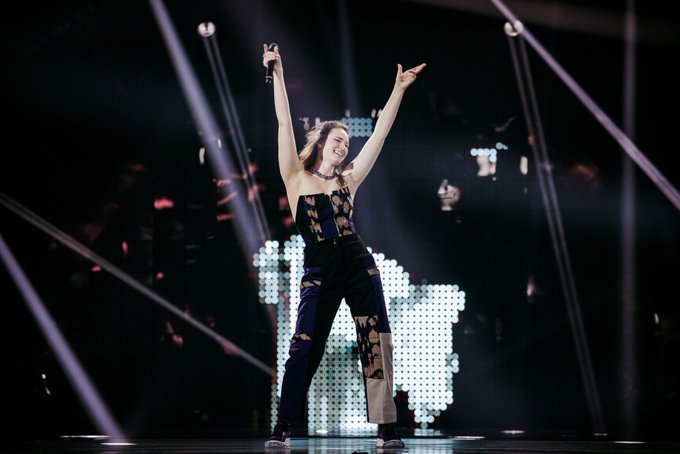 We are DOMI end the second semifinal, coming right after the Swedish favourite – and given Cornelia's stumbles, it does the almost impossible and trumps what went before.
The staging is superb. The shots are excellent, chopping and changing in time to the song. It's a world apart from the Belgian camerawork. The sub pulsating on the beats of the song – finally looking quite intentional. There's much light – right up until they go out ahead of the chorus (that's especially effective).
Domi looks great and moves so well, hitting all the right notes. The costumes work so well with the lighting and cameras, so whoever put the package together did good.
It's a brilliant closer – and even though I'm not a fan of the song – I'm certain it's through. The fact we're almost surely losing Austria (based on yesterday's rehearsal) can only help its chances of a left-hand finish.
Czech Republic 🇨🇿 was pretty good , both visually and vocally. It seems like we will watch a great performance on the 12th.

— Musiable | News and blogs about Eurovision (@musiable) May 6, 2022
CZECH REPUBLIC
Any fears that this sultry dance track would struggle to translate to the live arena are thoroughly allayed by this rehearsal. An amazing light show transforms the arena into a nightclub, and Dominika is giving strong, assured vocals.

A very strong closer indeed.

— Eurovision Insight (@ESCinsight) May 6, 2022
🇨🇿 Dominika is helped by backing vocals in the chorus and still struggles a little bit in the verses, but this is a solid effort from Czech Republic #Eurovision

— Patrick Flynn (@patrickjfl) May 6, 2022
Don't get me wrong, #Czechia is great. It's a likeable bop bang at the end of the show, but is that enough? For me it's like Triana Park with all the dirt washed off, and still not feeling it! But I soooo want to be proved wrong! #Eurovision

— EurovisionApocalypse (@ESCApocalypse) May 6, 2022