Hey team! You wanna know what complete imbecile decided to start a new job on Week 1 Day 3 Afternoon 1? Yeah, BABY… *points at patch of ceiling 75cm behind own head*… THIS complete imbecile!
Quite how this could all slot together into any kind of coherent ongoing content stream is currently beyond me. So thank gawd I don't really do coherent ongoing content streams, right guys? Anyway, let's off-road!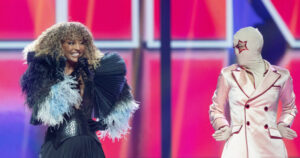 We open up for the day, and the semifinal, with San Marino's Senhit. I'm a non expert on Rap Royalty, so I can't be certain whether she's supported by the advertised Flo Rida. I guess the obvious solution is Al Aska. (I've just been told I can go home now as the disastrous quality of that last joke has resulted in the rest of this year's Eurovision being cancelled. Joke's on you, I'm home already!).
We also now have an explanation why so many stages looked suspiciously empty yesterday, as the San Marino HoD seems to have looked around in the Prop Shop and said "Ours… ours… ours… yep, I think we can use that… also ours…". It's a very busy performance, but entertainingly so, and for a televote-bait entry it also has the vocal chops to also tempt the jurors. I like, and I feel a bit sorry for whichever poor sod's up next.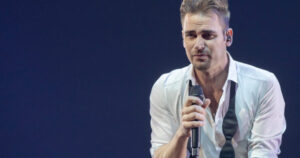 Uku Suviste from Estonia is the aforementioned poor sod, and I'm vaguely sensing a delegation that may already have given this one up. I don't suppose too many people remember Victor Crone's augmented reality storm from a couple of years, certainly I don't anyway, but Uku's been provided with a perfectly normal storm to sing in front of. So much is relying on the strength of the song and Uku's ability to sell it to a crowd, but neither of those are coming up with big numbers for me. I do think this has been given 2nd slot for a reason, I really doubt we'll see it again on Week 3 Day 1 Evening 1, but it might have left a few pennies in the budget for Estonia to come back strong in 2022.
One of the joys of a home press centre is that if your auntie happens to phone up 30 seconds into rehearsals for the Czech Republic's Benny Cristo, your auntie wins. Every time. Trust me on this. DO NOT DISRESPECT THE AUNTIES. I liked what I did see though – Benny dressed up in amber and black training kit, perhaps in honour of Cambridge United's promotion to League 1, showing signs that he was quite willing to cover every blade of grass stage, and generally looking exactly cool enough for school. Sound levels need a bit of tightening, almost as though it was some kind of 'rehearsal' or something, but I get the impression he's doing himself and the song justice here and he'll find his audience.
Finally for the morning, Stefania from Greece took the stage and fooled me multiple times. What started out as a good, engaging but standard-issue performance very quickly turned visually unexpected when the digital and green screen trickery kicked in. There's a fair bit that I would love to see behind-the-scenes for as I can't immediately work out every last detail of how they were doing it. It came as a surprise, to me at least, to see in the final seconds that the dancers weren't wearing green body suits. It's absolutely designed for television rather than arena, and in this peculiar year, so it should be. I wondered if it might be a risky qualifier. It's at no risk at all, it's Greece's best overall package for a good few years and will get a nice result.
Right. For my next trick, I shall have a quick lunch and see if I can convince Microsoft Teams to work something like properly. It's not just the digitally augmented broadcast tech that I'm behind the times on, dear me no, I can't even get my Betamax to work these days.
Tot de volgende!