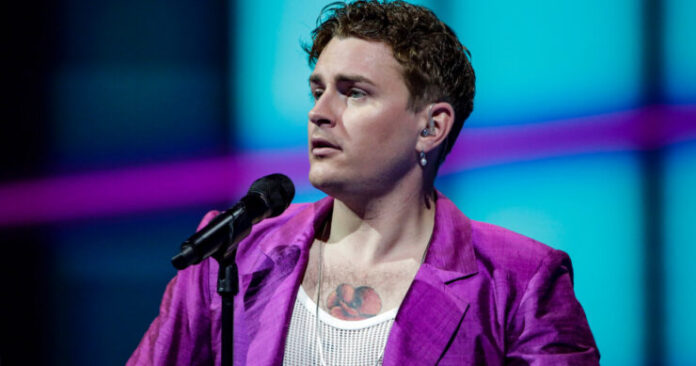 As you may or may not know, I hate this song with a passion rarely seen in me (spoiler: it isn't), but I thought I'd keep an open mind as so many people seem to like this song.
The first thing I noticed was that DR has done NOTHING to the earlier DGMP staging, probably to ensure that the singers are comfortable with the product on the Eurovision stage. That, I guess, is to be applauded. The one in the pink, and I don't know which one he is, remains super-smug and slappable throughout the three minutes; almost as though he is letting us in on his in-joke. The whole three minutes feel a bit like that, with knowing glances to camera and the like. The background is nice and 80s (cos that's not been done before in the last four days, oh dear me no), and it certainly looks and feels to be performed as a package rather than sung. The singing is, as you would expect, spot on – so why the hate?
It goes back to the smugness. I know often singing a song is a lie, but you need to be invested in the singer's belief of telling you a story. I'm not sure what these two are trying to sell me other than a slice of nostalgia. That's all very well in theory, but comes over as too cloying for anyone other than fans to take seriously.
Having said all that, there will be several drunk/stupid/old/optimistic people out there that are going to see none of that, who'll think: camp, Eurovision, vote. And there is every likelihood of this going straight through to the final.