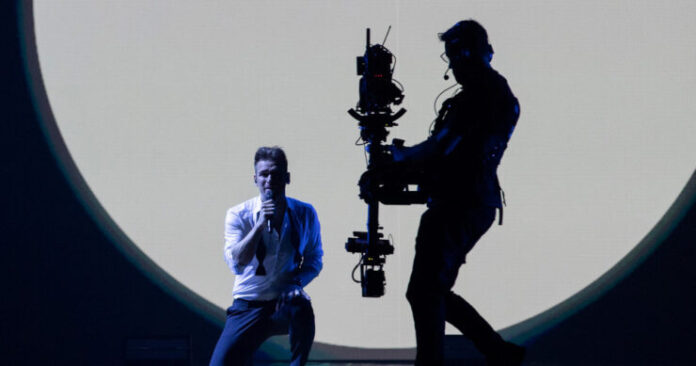 Estonia gets the slot of doom in the second semi-final. It's quite the contrast to what's been before him, and I feel a little sorry for Uku having had to win the right to represent his country all over again and then being handed the unenviable task of following Senhit. He does at least have the looks to pique a viewer's interests.
This is a classy performance. Uku's alone on the stage, in a simple shirt and trousers, with an untied bow-tie hanging around his neck. He starts kneeling, the stage is blue with a full moon projected at the back. There's some effective use of underwater imagery from the video which looks great on stage. The colours of the backdrop and Uku's outfit create the feel of the Estonian flag, without feeling it's being shoehorned in for the sake of it.
The blue backdrop swirls, there are lightning flashes, and we get a burst of red towards the end. It's very dramatic, and Uku delivers this as you would expect having seen him perform it in the Eesti Laul.
Uku's sporting the thinnest of goatees, and I feel a little hard done by that he's not got a wider chin of stubble: there are few men not greatly improved by a beard. Come on, Uku, you've 10 days to get a hairier chinny-chin-chin for me. I might pop a note through to the delegation…
As well delivered as it is, the song might not be engaging enough to make it through, especially hindered by this running order. The second semi-final feels more open then the first though, so perhaps a well sung song still has a chance to stand out amid all the crash boom bang surrounding it?
Monty x