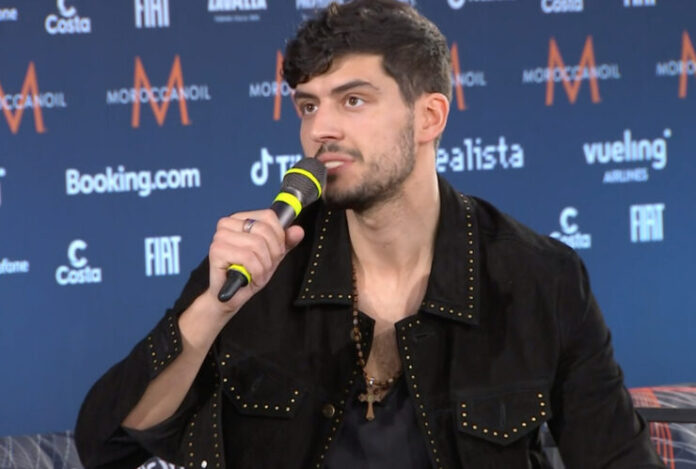 STEFAN, ironically, has two outfits.  One is black and the other is beige (matching his song arguably?).
Stefan was named the country's Sexiest Man of the Year by the popular Estonian magazine Kroonika. He was asked first about any rituals he follows to retain such lofty status. He admitted to having some … but remained very coy as to what they might be. He has a little shot of something and a nap – well that's rock and roll for you right there.  (This is the content that the internet has been missing!) – The moderator decides to talk about how he is scared of flying. Good job, because it's much more interesting than STEFAN.
Stefania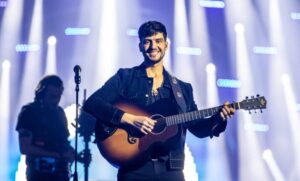 But back to the talent – his older sister has been an influence on his musical career and is his inspiration for starting out in the business. Her name is Stefania (clearly naming in Estonia is difficult) and she is going to be there for the semifinal. Stefan gets a bit emotional when he talks about her.
Shockingly enough the song is about a hope for a brighter future and, thankfully, he has not brought the cowboys from EestiLaul with him. There seems to have been a decision to focus on Stefan and the message of his song.
Cheap drinks
He recorded the preview video in Almeria in Spain, and he said that the weather and people were nice and it is nice and drinks were cheap – he's the typical foreigner abroad! – He claims he was working very hard despite the 1 Euro shots! – He sounds like that he parties hard!
He then gets up and sings a bit of his Armenian grandma's favourite song which was very short but nice. The best advice he has been given in his music career? – Be yourself!