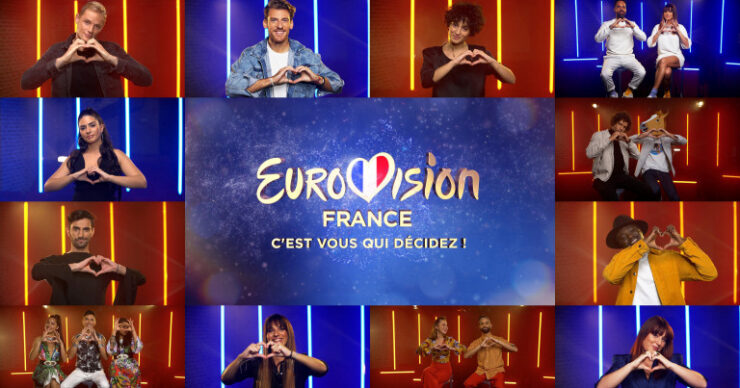 In an extremely long and, frankly at times tedious, evening on French Television, nos amis across La Manche had two rounds of votes to decide which of 12 songs goes to Rotterdam.
The first round saw seven of the eight qualifiers chosen by televoting (with which us international types could join in) and one from the jury (LMK). They then claimed that the final result would be a 50/50 televote/jury split, but instead of the usual way of converting televoting percentages into points, the organisers used a completely different scoring system. The jury scored 2-4-6-8-10-12. The televote 10-20-30-50-60-70-80-100!! – Yes they both awarded 420 points but in totally different ratios!
However, the result of all this tomfoolery is that Barbara who, it has to be said, made the jury cream themselves simply by being a younger version of Edith Piaf, won the right to potentially fail at the Eurovision and let France wonder where it all went wrong…
Here's a hint, they've written a jury song! Video is at the bottom of this page, make yer own minds up!
| | | | | | | |
| --- | --- | --- | --- | --- | --- | --- |
| Song | Performers | 1st Round | 2nd Rd Jury | 2nd Rd Televote | Total | Psn |
| Alléluia | Andriamad | | | | | |
| Pourvu qu'on m'aime | Juliette Moraine | ✓ | 76 | 60 | 136 | 2 |
| On a mangé le soleil | Céphaz | ✓ | 52 | 30 | 82 | 5 |
| Maeva | Amui | ✓ | 8 | 70 | 78 | 6 |
| Bah non | Philippine | | | | | |
| Je t'emmènerai danser | Terence James | | | | | |
| Voilà | Barbara Pravi | ✓ | 104 | 100 | 204 | 1 |
| Amour fou | Pony X | ✓ | 74 | 50 | 124 | 3 |
| Tutti | Casanova | ✓ | 22 | 80 | 102 | 4 |
| Magique | LMK | ✓ | 66 | 10 | 76 | 7 |
| Paris me dit | Ali | | | | | |
| Peux-tu me dire? | 21 Juin Le Duo | ✓ | 18 | 20 | 38 | 8 |