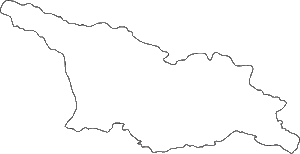 Do you ever wonder what becomes of Eurovision stars after they've had their three minutes of fame? I'll wager some of them go back to working in [insert coffee shop chain here]. Maybe some of them end up catching norovirus whilst working on cruise ships.
Some strike it lucky and meet their life partner at the contest. Today's birthday girl თამარა 'თაკო' გაჩეჩილაძე/Tamara 'Tako' Gachechiladze made the short hop from Georgia to Ukraine and performed second in the first semi-final in 2017. You know it's unlikely to end well when you perform second, especially in a semi-final. Sure enough, 99 points wasn't quite enough to make it to the final. However, Tamara only went and bagged herself a a husband instead. Boris Milanov – a Bulgarian – not only co-wrote his home country's entry, but had a hand in (North) Macedonia and Serbia too. Only one of his songs made the Grand Final and almost won. But was what he won – a wife – better than a contest win?
Tako is 39 today.
გილოცავ დაბადების დღეს, თაკო!