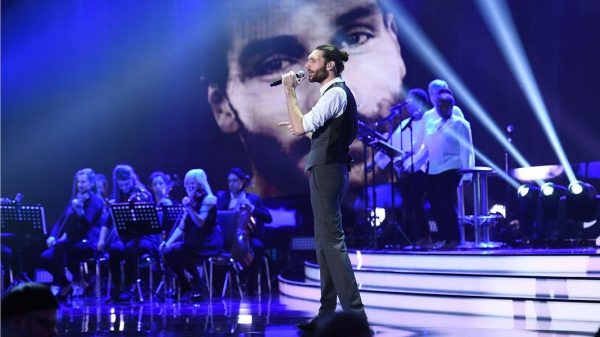 The Germans are about to pick their song for Kiev. Tomorrow evening, Unser Song is set to have coffee makers and kettles working overtime across Deutschland, thanks to a format that all but defies explanation. Though I am going to have a good go.
Five 'young' singers will compete. The good people at German telly have let us have a peep at the rehearsals.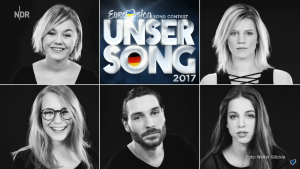 Before I let you in on my tips for the trophy, take a deep breath and I'll walk you through the three-hour spectacular. Although, given one of the special guests is self-publicity machine Ruslana, we could all still be sitting in front of our screens into the small hours.
The majority of the show will be taken up by the hosts imploring viewers to vote. The Germans have come up with one of the more complex ways to pick three minutes of throwaway pop.
How it works
In the first round, all five acts will perform cover versions. Viewers get to vote and ditch two acts. In the second round, the remaining three acts perform a new song walled Wildfires (written by Tofer Brown, Marit Larsen and Greg Holden). We vote again and another one bites the dust.
The two acts that remain get to sing a second song – Perfect life, (written by Lindsey Ray, Lindy Robbins and Dave Bassett).
What happens then is anyone's guess. Voting apparently happens again, and 'two stagings' (whatever that means) are eliminated. This leaves two performances … of either the same or different songs open to yet another vote.
Mo's German tip
Having given the rehearsals a listen, it looks like another year on the right-hand side of the scoreboard for Germany. Neither song inspires, and some of the performances are, quite frankly, awful. Maybe it'll be all right on the night, but right now, Helene Nisen and Francesca Lu deserve to be first off.
Wildfire is the more instant song, Perfect Life feels more complex. Performance-wise Axel Feige and Levina look set to be in the running. Levina because she can hold a tune, and Axel because he's the only bloke and his rehearsal performances put him out in front.
Push me to pick and I'll say mincing man bun Axel with Perfect Life.
But like I say, it promises to be a long night. Deutsche Telekom must be delighted.