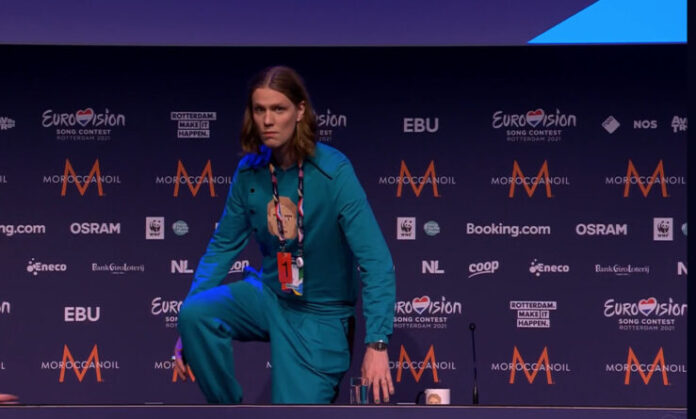 Daði & Gagnamagnið came to the Eurovision 2021 Press Centre in Rotterdam after their second triumphant rehearsal for a quick-fire Q&A with the assembled (and online) press.
Introduced by strings, set to slinky synths, funky bass and bright drums, led by Daði's distinctive vocals and featuring a very special, 1000-voice choir, 10 Years treads a seductive tightrope between credible and camp. From the moment it leaked online days ahead of its debut on Icelandic TV in mid-March, it became the bookies' favourite to win in Rotterdam in May.
What changed from the first rehearsal? There's one moment where I looked into the camera. Previously I didn't.
Was today's performance good enough to broadcast if need be? I'll go with no. We need to be there on the night.
Are you excited to be performing live again after all this time? It's my second biggest audience ever, so what do you think?
Are you natural dancers? Of course not, but I challenge any professional dancers to do the 10 Years dance better than we can.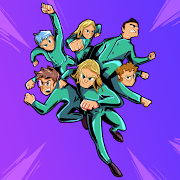 What video games do you play in downtime? Rocket League, FIFA, Mario Kart and Think About Aliens.
Who wins most? Joey. Especially at Think about Aliens because he invented it.
Why that shade of green? We picked a colour nobody wears and wore it.
How has your view of Eurovision changed since 2017 when you entered the Icelandic national final? It's changed a lot. Back then, I thought of it as something that would be funny to do. Now I see it as a huge opportunity and not only to get more eyes on my music. You get three minutes on the craziest stage in you'll ever see with more than thirty cameras and you get to work with some of the best professional teams to make these three minutes actually how you want. It's something I could never have done outside Eurovision.
Why do people like your music? I have no idea. I make music that's fun for me to make and fun for me to hear. I'm having fun making it so maybe that's why it's fun to hear it. I don't know. We're having a good time and joy is infectious.
What's next? Two new songs come out on 21 May along with a remix of '10 years' by one of my favourite bands and I started to plan out a big album. There's going to be around ten songs and just like with Eurovision I need to think through ideas. I want to know what the narrative is of the album before I start writing songs. Hopefully, it'll be out in 2022.