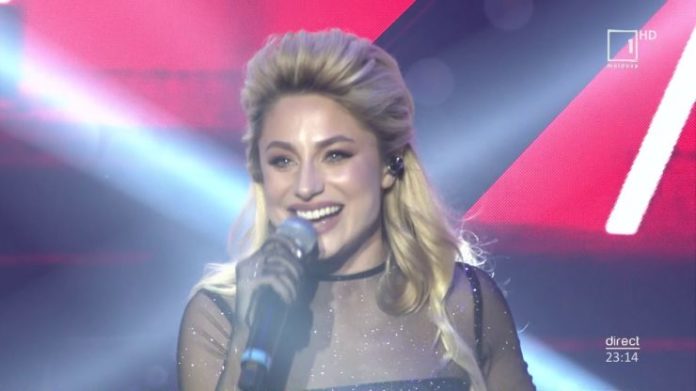 Moldova has a reputation for going its own way at the Contest we call Eurovision and tonight's national final was no exception.
After last year's disaster where they failed to qualify for the first time since 2016, all the stops were pulled with Eurovision madness in the air once more.
In the end, with Geta Burlacu pulling out at the last minute for personal reasons (she still polled seven televotes), it was left to the other two acts with Eurovision pedigree to top the poll, and it was Natalia Gordienko's dramatic ballad Prison that beat off a strong challenge from Pasha Parfeny to take the title.
And if you're interested in how the votes landed …
| Artist | Song | Jury | Jury | Televote | Televote | Total | Place |
| --- | --- | --- | --- | --- | --- | --- | --- |
| Denis Midone | "Like a Champion" | 0 | 0 | 117 | 0 | 0 | 20 |
| Natalia Gordienko | "Prison" | 64 | 12 | 3022 | 12 | 24 | 1 |
| Geta Burlacu | "Răspunde!" | 0 | 0 | 7 | 0 | 0 | 16 |
| Viorela Moraru | "Remedy" | 0 | 0 | 46 | 0 | 0 | 17 |
| Valentin Uzun & Irina Kovalsky | "Moldovița" | 9 | 0 | 629 | 6 | 6 | 9 |
| Lavinia Rusu | "Touch" | 38 | 6 | 130 | 0 | 6 | 7 |
| Dima Jelezoglo | "Do It Slow" | 3 | 0 | 343 | 4 | 4 | 11 |
| Diana Rotaru | "Dale dale" | 42 | 7 | 99 | 0 | 7 | 6 |
| Pasha Parfeny | "My Wine" | 60 | 10 | 1617 | 10 | 20 | 2 |
| Live Beat Orchestra | "Love Me Now" | 15 | 2 | 96 | 0 | 2 | 12 |
| Valeria Pașa | "It's Time" | 27 | 3 | 500 | 5 | 8 | 5 |
| Maria Ciolac | "Our Home" | 0 | 0 | 82 | 0 | 0 | 19 |
| Sasha Letty | "Summer of Love" | 0 | 0 | 37 | 0 | 0 | 18 |
| Irina Kit | "Chain Reaction" | 10 | 0 | 73 | 0 | 0 | 14 |
| Petronela Donciu & Andreea Portărescu | "We Will Be Legends" | 13 | 1 | 240 | 3 | 4 | 10 |
| LANJERON | "Hi Five" | 38 | 5 | 154 | 1 | 6 | 8 |
| Julia Ilienko feat. Mishel Dar | "Tears" | 7 | 0 | 229 | 2 | 2 | 13 |
| Catarina Sandu | "Die for You" | 31 | 4 | 824 | 8 | 12 | 4 |
| Alexandru Cibotaru | "Cine te-a facut să plângi" | 2 | 0 | 43 | 0 | 0 | 15 |
| Maxim Zavidia | "Take Control" | 47 | 8 | 650 | 7 | 15 | 3 |