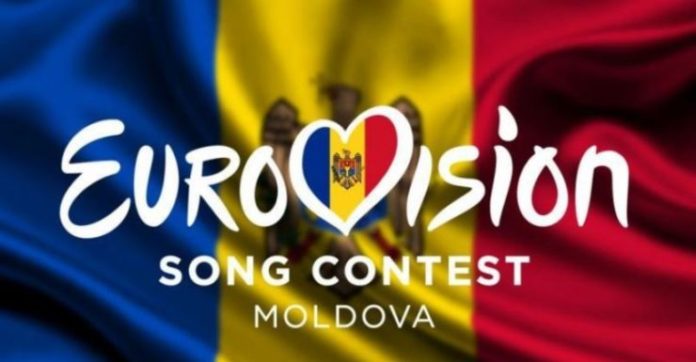 Apparently, in a very uncharacteristic move, TRM the Moldovan broadcaster has announced a 36-song long list for its selection process.
Interest is (apparently) so high that as of 19:50 (GMT) today, the TRM website went offline! That list must be damn good.
Sasha Bognibov has finally scored a place in the long list. His previous attempts have included "I Love The Girls Of 13 Years Old", "Do You Like My Sexy Lips?" and "Fuck Me Once". This year 'Big brother' warns of leaving fingerprints on every girl you touch. Enlightenment not having yet reached Moldova.
No national final
The acts get to perform their songs live in front of a jury – usually in what looks like the conference room of a low budget hotel on a factory estate. A jury then decides which songs to shortlist. We get to watch online.
There has been no mention of a public national final – and given low viewing numbers in recent years, it's no shocker to suppose the jury will decide who gets a return coach ticket to Rotterdam.
Long list
The Internets tells me, and by extension now you, that the songs (linked where available) are:
Che-MD feat Irina Revenco – Adio
Maria Ciolac – Our home
Viorela Moraru – Remedy
Dima Jelezoglo – Do it slow
LANJERON – Hi Five
Nicolae Untilă – Call me please
Vovian – 10 minuni în Moldova
Maxim Zavidia – Take control
Valentin Uzun & Irina Kovalsky – Moldovița
Diana Popa – Believe me
Danny Cruise – My love
Olea Roșu – Alive
Catarina Sandu – Die for you
Ray Barc – I'm shy
Tudor Bumbac – Te-am văzut în vis pe tine
Geta Burlacu – Răspunde
Sasha Bognibov – Big brother
Katerina S – We are done
Sasha Letty – Summer of Love
Live Beat – Love me now
Valeria Pașa – It's time
Liusia Znamensky – Love no more
Julia Ilienko ft. Mishel Dar – Tears
Natalia Gordienko – Prison
Petronela Donciu & Portărescu Andreea – We will be legends
Carolina Racoviță – Dancing in the sunrise
Angel Kiss – My Own Queen
Angel Kiss – You are my dance
Lavinia Rusu – Touch
Irina Kit – Chain Rection
Alexandru Cibotaru – Cine te-a făcut să plângi
Denis Midone – Like a champion
Pasha Parfeny – My wine
Lave – Wildfire
Diana Brescan – Let's go together
Diana Rotaru – Dale dale
When TRM sort out their technical issues, you can preview all 36 songs on their website.