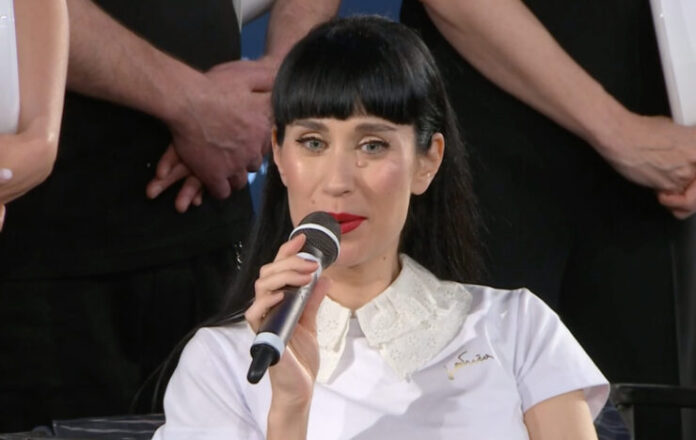 The band entered in costume/character – clearly rehearsed beforehand because they started the feed early! – Allora!
Just as with every other song not performed in English, Konstrakta was asked if she considered abandoning her native language. She said that she hadn't and that there's not even been any attempt at writing English words for it. They made a decision from the start that it would stay in Serbian. She's amused by how those who have heard the song fixate on mention of Megan Markle. The former royal wife isn't particularly important, she is symptomatic of the sort of people our media hold up as examples of health and beauty. Megan hasn't contacted anyone in the team yet, but Konstrakta would like her to hear the song.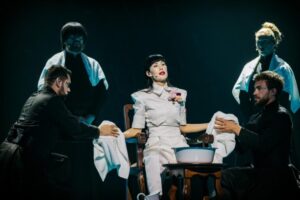 'In Corpore Sana' song is about health and the atmosphere in which we are living. Health being the highest value accentuated by the ongoing pandemic. Konstrakta will be washing her hands throughout the performance (and that could chaff!) obeying instructions from above to stay healthy and take her own responsibility to stay fit.There were random questions about soap – she laughed about the soap she had for the first performances that left her hands so dry. She's since found a much better one and reckons she can go ten hours without it causing dry skin!
— RTS | Serbia ESC (@SerbiaESC) May 2, 2022
Returning to the topic of Eurovision. Konstrakta is a fan. When work permits, she likes to gather with her family and watch the show, commenting on costumes and songs and acts, taking bets on who might win. Last year was a greet show, she said, and she remembers liking the songs from Iceland and Italy.
So what now?
It was a big surprise to win the Serbian final. She'd absolutely not expected it and so asked the question at the end of her performance "so what now?"
She respects Laurie Andersson very much. Marina Abramović is another big influence on her work. the other influence. Musically she has a wide range of influences so listing individuals wasn't something she could do off the cuff.
The juxtapose between the simple choreography, pop music and the deep meaning of the lyrics were explored and Konstrakta was somewhat worried that the pop would detract from the meaning behind the song (Whatever that is!).  Going to the Pre-Parties has helped the band to gain experience in singing live.
Rocky
She was asked the classic Eurovision question about whether humans or germs were the biggest threat to survival of the world. Konstrakta pointed out that microbes are important and they exist here alongside humanity, so perhaps we're more of a threat than the germs. Nice save.
Konstrakta "enjoyed" quarantine, because she had time to think and had time to walk her dog (Rocky) and to write songs, coincidentally dog walking is when she writes her best material. There was a lengthy chat about Rocky – who is residing with family back home while his mistress tends to Eurovision handwashing. In case you wondered, her son picked the name.
Image Credits: EBU / Nathan Reinds.