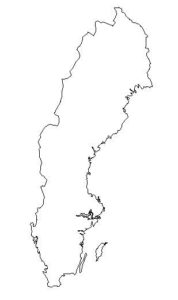 Yes, we pick on that powerhouse with the blue-and-yellow flag today. You're probably already sitting up to see which lucky Swede it is. Well read on.
Today's birthday girl Sara Magdalena 'Malena' Ernman had a go at that very interesting genre – popera. It polarises opinion in some quarters. Is it legitimate or not? You decide. Well in Melodifestivalen she was on stage as part of a group of eight. She had to shed two pals when she got to Moscow. After doing well in her semi-final, she did very badly in the Grand Final for a Swede (but at least she got there, eh AB). You might know her best as being the mother of someone famous. You never know, the Eurovision drug sometimes runs in families, so maybe we'll see Greta in years to come.
Malena is 52 today.
Grattis på födelsedagen, Malena!