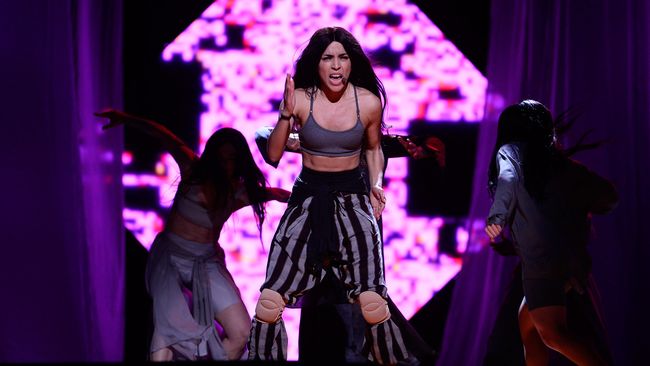 This week we're in Skellefteå, trying to pick songs for the Melodifestivalen final. And eventually the Swedish Eurovision entry. It's the last set of new songs and it includes Loreen. Who, just in case you're new to this, won the Big Show, a few years back.
Now, as far as my reviews go, let's be honest, it's been a rule of diminishing returns. I started well, but by last week, I was miles off. To my ears, this is a reasonable collection, but Loreen apart, there's nothing special going on – and having said that I'm not that taken with her song.
So let's give them the Fanning once-over.
Jon Henrik Fjällgren feat. Aninia – En värld full av strider
It sounds like they're aiming for anthemic, and whilst the studio version falls a bit flat, the rehearsal clip bodes well. Sadly though, there's little here to excite me and it limps along, unsure if it wants to be a pop number or something vaguely ethnic.
Alice – Running with Lions
I'd put this one at the bottom of the heap. It's terribly repetitive, which given the title sounds a bit daft isn't a good thing. Goodnight Skellefteå.
Les Gordons – Bound To Fall
It's like you'd imagine the B-side might sound to the 'Theme from Friends'. Yes, it's that dated and that unremarkable. Are they popular in Sweden? If so, they'll progress, otherwise it deserves to vanish without trace.
Wiktoria – As I Lay Me Down
Wiktoria really struggles to find her way here. In both the studio and live clips, a few notes felt forced. Given her rep, it's destined to qualify, but more than likely only to Second Chance, where it will face off against much better songs. She's going to get the Swedish ticket one year, I'm sure. But not this one.
Axel Schylström – När ingen ser
This is another 'type' of song that I've heard so often before, not that this makes it a bad effort, it's just so thoroughly unremarkable. I can't find much of a hook either. Second Chance perhaps?
Sara Varga & Juha Mulari – Du får inte ändra på mig
If ever two voices have been less suited for a duet, I'd like to hear them. She's soft and ethereal while he's a 'lil bit country. Sounds like something Lithuania might have rejected five years back. I'm predicting it will sink without trace.
Loreen – Statements
It's obviously going to top the board, because well … Loreen. It's creepy, mad and everything you'd hope. That said, on the strength of the short clips available so far, it's not the most instant/televote friendly thing going. And while Loreen has a backing at home, will the rest of Europe (plus parts of Asia, the Middle East and Australia) pick up their phones?
It stands out up against many otherwise bland entries this year's Melodifestivalen.  The one-minute clip cuts off just before the chorus. The rehearsal clip features what sounds like two or three songs competing for attention.
I wanted to like this. I really did.
So that's me done for another year. Next week (and the week after, of course), I'll recycle my earlier reviews and pass it off as something new. Enjoy the show.