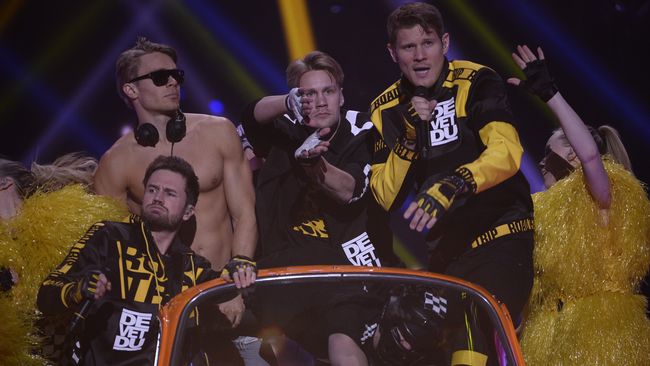 It's another busy weekend in the world of Eurovision. With time running out before each country needs to name and shame, there are four national finals and a couple of semi-finals. One of those semi-finals takes place in Sweden. It's Andra Chansen week – or as I like to call it, 'second chance'.
New readers start here. Melodifestivalen runs over six weeks. The first four weeks, see eight songs a week compete for places in next week's grand final. Each week, two qualify 'direkt'. But the songs that finished in third and fourth place have a slot in Andra Chansen. 
These eight songs go up against each other in four duels. The winner of each duel – decided by a public televote – qualifies to the final. 
The duels were revealed last week, and SVT insist it isn't a case of picking names from a hat. So let's take a look and make some predictions.
DUEL ONE
De Vet Du – Road trip
FO&O – Gotta thing about you
Two boy bands with big online followings, and whilst De Vet Du offer that pretty boy who doesn't seem to own a shirt, OnEuropean money is on FO&O who will surely be able to mobilise their bigger fan base – and let's face it, they do have the better song.
DUEL TWO
Lisa Ajax – I don't give a …
Axel Schylström – När ingen ser
SVT look to have decided to pair up two graduates from Idol. Potty-mouthed Lisa has the stronger song here. It's not been out of the Spotify charts since release. Axel is nice enough, but meh.
DUEL THREE
Boris René – Her kiss
Dismissed – Hearts align
The two weakest songs go head to head. Sadly, this means that either Loreen or (more likely) Anton Hagman will miss out in favour of a space filler. Dad rock performed by men in make-up is pitched against a song that displays all the hallmarks of an average 1990s b-side. Boris at a guess, though it hardly matters.
DUEL FOUR
Loreen – Statements
Anton Hagman – Kiss you goodbye
Let's put aside that fact that Loreen appears to have forgotten to turn up with an actual song. The stage act looks (and sounds) like an interval act. In the past week, Swedish tabloids have given her enough of a publicity push to suggest she'll easily defeat Hagman. It's a shame given his Spotify and YouTube streams in just one week put him way ahead of either act from Duel Three.
So that's me for another week. Back with the show that matters next.