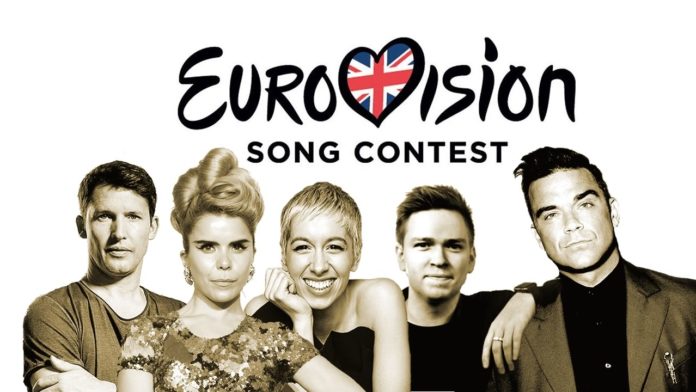 It's that time of the year – Post-Eurovision Depression (PED) sets in. We fans amuse ourselves with unfettered speculation around who might (or might not) take part in the next Contest.
This year, we've got the extra talking point of not really knowing where or when we'll gather in song next May – the EBU recently warned fans off booking anything, just yet – but potential performers are already being bandied about – certainly in the UK.
Let me entertain you
Robbie Williams might have happened to mention to (semi-final commentator) Scott Mills that he could possibly be interested in taking part after seeing the Russian stage act in 2016. Us fans don't hear any of the possibles or maybes. We're already talking about whether he should write the song or call Gary Barlow.
Fresh from watching the Royal Wedding, James Blunt suggested he'd be up for representing the UK if only the BBC would ask. Except he hasn't actually told the BBC. He happened to mention it to an Estonian journalist when asked why the UK appear to be so universally bad at Eurovision. "England never wins and I'm really just waiting for them to call me because I'm here to fix this.," he apparently said, though the actual gist was most likely lost in translation.
Joining this stellar line-up is Paloma Faith. In a Facebook chat last year, she said she'd be up for the gig – but only if the BBC let her oversee things. "If I was asked to do Eurovision and I loved the song they wanted me to do and I could be completely in control of everything — because I am a major control freak — then I would do it."
Back for good
Norwegian DJ and producer JOWST (came tenth in 2016) has revealed that he would like to write next year's UK song – but for an artist who doesn't 'care about their own media'. he added 'I'm just looking for [an] artist with a big "A". Someone with passion, some kind of image, and goals for her/himself. And with some songwriter skills, so she/he could get more ownership over the song." He's already had one person stick up their hand. Tamar Kaprelian, who sang for Armenia in 2015 has suggested they should talk.
She could find herself up against SuRie. Robbed of her three minutes, a petition is well on its way to 3500 signatures to have the BBC give her a second chance at the full three minutes, perhaps singing a number of songs in a revamped 'You Decide' national selection. After all, the girl can sing, she's 100% professional … and she knows how to win over an audience. If only she'd have had a better song. Maybe she has enough 'Big A' to excite JOWST? In recent interviews, she hinted that much as she enjoyed the gig, BBC commercial agreements can feel a tiny bit restrictive. And the time needed to really throw yourself into the Eurovision bubble eats into writing and recording new material.
Of course, the BBC should probably go with all five. Pitch them up against each other in the national final. Chuck in Scooch and it's obvious who UK televoters will pick.
Something to suck on for landing, sir?
Image Credits: OnEurope.