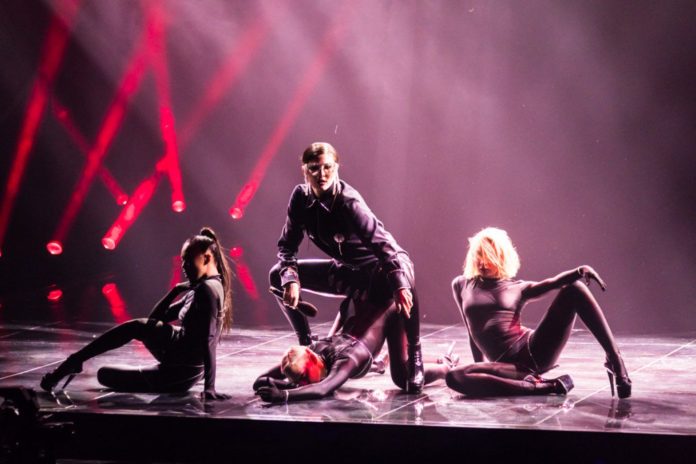 I'm not sure why Ukrainian broadcaster UA:PBC decided that over three hours of television for a six song final was appropriate. Clearly, in the depths of winter Ukrainians have nothing better to do with themselves.   
There had been two semi finals, so the public were well acquainted with the songs. They were also treated to Bilan Hassani singing "Roi" live.
Anyhow, the result was decided (as were those two semi finals) by an expert jury and a televote. Here's the final result:
| Song | Performer(s) | Pts | Psn |
| --- | --- | --- | --- |
| Cupidon | Freedom Jazz | 10 | 2 |
| Galyna guliala | Yuko | 5 | 5 |
| Siren song | Maruv | 11 | 1 |
| Houston | Brunettes Shoot Blondes | 5 | 4 |
| Apart | Kazka | 8 | 3 |
| My road | Anna Maria | 3 | 6 |
Winner may not take it all
So, Maruv was chosen to board the golden winged aeroplane from Kiev to Tel Aviv. Or at least that's how it seemed until shortly after the show the First Vice Prime Minister of Ukraine took to popular diplomatic channel Twitter to object to the result. He's unhappy that traitor Maruv has toured (and has plans to once again perform in) Russia – not that this was ever a secret. 
The broadcaster issued a statement: "UA:PBC provides MARUV as the winner of the national selection with an agreement for consideration, specifying the terms of participation in the Eurovision Song Contest. The official announcement of the representative of Ukraine at the 2019 Eurovision Song Contest will take place after signing the participation agreement."
The song itself is a so-called fan favourite so should fail miserably in Tel Aviv… or get latched onto by those people who think beige is the in colour this year. 
Update
Maruv won't be performing in Kiev after all. For the full story on this,
have a look here
. And to read about how Ukraine has since announced its withdrawal from the contest,
go here
.