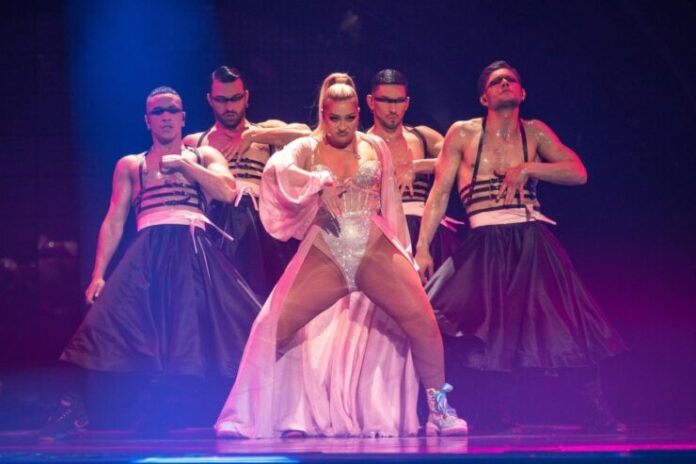 Last shall be first and first shall be last – or something like that. So here we have Albania, held over from the first rehearsal of the day.
I dont get what all the fuss is about. Apparently, she is a "queen" and will "slay" and all of those other things that people say when they can't adequately describe what is in front of them. The female gyrating dancer is still there, making me think that RTSH just "made shit up" in order for the song to gain traction amongst the gays, but that can't be right can it? That would be hugely unfair to Ronela.
Pounding
What I will say is that it's more performance art than all-out Eurovision song, in my opinion. The staging is all about Ronela pounding around the stage with her male backing dancers, doing some of the old gyrating and whipping her hair back and forth at the end … but what does it have as a song? – well not a great deal in the way of lyrics apart from in the chorus, but the bits she sings are… OK. She literally just sings the hook and relies on the dancing to get us to the end, and if that is your USP then, normally, you are in trouble.
As a song 'Sekret' has few redeeming features. The juries won't like this. It's lyrically light, and not telling any sort of story, even though Ronela is (vocally) spot on. This clearly panders to a certain defined demographic and, as it is first on before any of the next four dire pieces of music, it will be remembered. This should get to the final. Not on merit, but on a process of elimination. In the final, I am fully expecting 'Sekret' to be swallowed up.
I may just have offended quite a lot of people, but opinions cannot be wrong.
Pink and turquoise have A meaning!Didn't wanted fire and red cause everyone did before!We have co2 and lots of them, and as for camera angles we sent everything how we wanted to and still trying to fix them!Staging is a plus of course, but a beautiful song is a beautiful song!❤️

— Ronela Hajati (@RonelaHajati) May 4, 2022
Ooh, they're showing us #Albania from earlier now. She's in a much better outfit now and proper giving it some, with loads of writhing and thrusting. Wherever this comes it's going to be a great opener! Terrible, but in a truly great way! #Eurovision

— EurovisionApocalypse (@ESCApocalypse) May 4, 2022