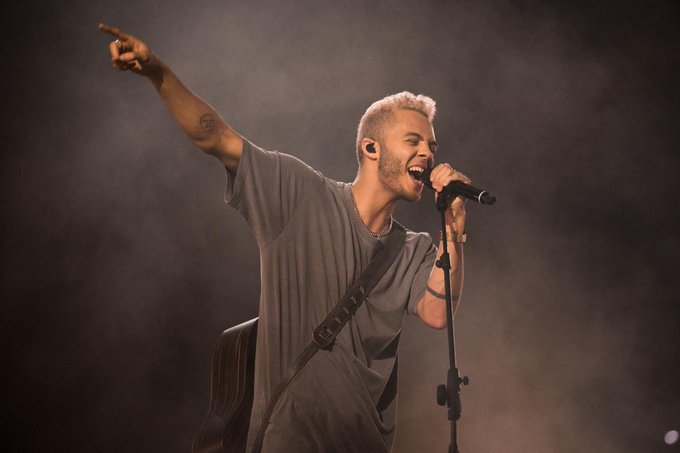 There is a juxtapose here. Malik seems likeable enough as a person and an artist and, like so many others, has a story to tell.
He is just angry at me for existing. That's the only rationale I can come up with for feeling like I should tell him to stop shouting at me when he tries to be all "street" and like Mr Marshall Mathers in the rap break.
This song relies so heavily on both the hook of the chorus and that rap break that when you take them away and look at what you have left…. you don't have that much. The performance makes Malik look lonely on stage as well, with his drum machine (it's not 1988) and his keyboard and his looper or whatever the hell it is really called.
This just melts into the background and has nothing to make it stand out. It just exists on screen and whilst the hook is catchy, I couldn't hum it back to you now about ten minutes later and if that's from someone that knows the songs backwards, then the real people of this contest have no hope.
Does this have accidental last written on it, not because it's poor, but because it's just there?
GERMANY
You have to feel a little for Malik following the 1-2 punch of UK and Spain's rehearsals.

This is understandably a lot more low key. In the round style staging with a variety of instruments, primarily shot in close-up.

Not bad, but clearly in the bottom 5 danger zone.

— Eurovision Insight (@ESCinsight) May 7, 2022
🇩🇪 Germany: Nobody will want to follow either 🇬🇧 or 🇪🇸, Malik had to follow both. He actually held his own. This staging is the younger brother of Sweden's – intimate, raw, real, freestyling. Wandering alone around a basement studio. The rap is easily the highlight. Could do ok

— ESC Tom (@EurovisionTom) May 7, 2022
Aww #Germany mate. You put the work in, you keep busy throughout, but I just fear that you're going to get lost in the crowd. #EUROVISION

— EurovisionApocalypse (@ESCApocalypse) May 7, 2022
🇩🇪 Really good rehearsal from Germany! I could use a bit more light, at times it did feel really dark. #Eurovision

— up in space, Dan 👩‍🚀 | 🇸🇪🇬🇧🇳🇱 (@vDanDesign) May 7, 2022