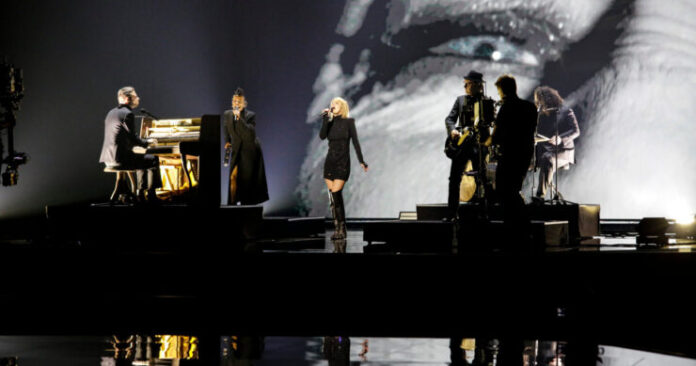 And here…. lurking beneath the undergrowth…. we have found it.  Yes, here in Eurovisionia (Belgium) we have got the lesser spotted backing singer – saved from extinction by Hooverphonic.
Seemingly none of your recorded backing vocal malarkey here, all 5 of the band are mic'ed up for this one and the contrast between the first three and this one is marked, and not in the way that I expected.
What Hooverphonic and Belgian TV have done is take a rum old boring hipster song, seen the production of The Common Linnets from a few years ago, pared back the hip and brought back the simple to a song which, as I have said before, is a good piece of song writing by an established group.   There are sideways glances into camera from your lead singer, the main backing singer lurking into shot in a slightly un-nerving manner which is totally in keeping with the preview video, the camera is long continuous shots for most of this three minutes which kept me engaged because I wanted to see what happened next, and I wasn't disappointed when the answer was "Nothing spectacular".
Good songs don't need any bells and whistles in the main and, despite me originally thinking that the Televoters of Europe are going to kill this song stone dead and it would only appeal to the jurors, I'm not afraid to tell you that I may have got that wrong.  Televoters are going to be drawn into this song because after the three that have gone before, this is just class.
Image Credits: EBU / Thomas Hanses .