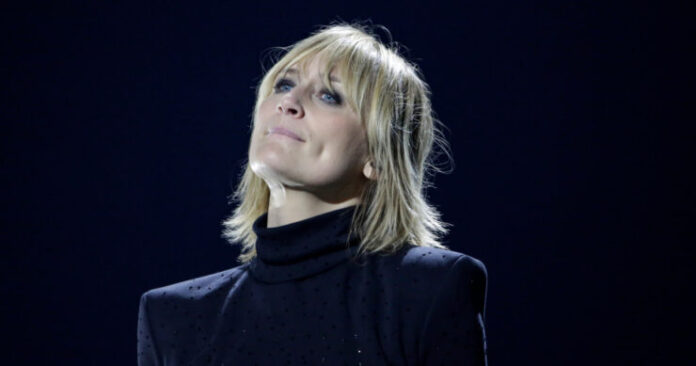 Right, time for Belgium. Again, an intriguing prospect for the staging. Having seen a live performance, I think it needs something more than just the band singing it. But what, and how? Will we see any of the motifs from the video carried through? Has she brought those antique duelling pistols she was running amok with? Will anyone's head be cleft off? And will the Johnny Cash t-shirt get a cameo role?
We do get a band setting, though they have put in some thought as to how to make it a little different. We get a drummer, pianist, guitarist and a backing singer placed square around singer Geike and the camera shoots the action as if in the round. Some nice angles bring the supporting cast into the background of closer shots.
Geike's in a black, glittery, backless frock with high boots, a look that suits her without being too showy. As a singer used to live work her singing is effortless, though with, presumably, less experience of delivering a made for television piece I feel she still needs to refine getting just the right mood for the camera while she does.
It's certainly a change in pace which sits nicely after the showier numbers and gimmicks which precede it. If voters are looking for a contrast they have it here. The song being in such a different style offers those looking for something different a genuine change in mood.
For me this is the kind of song that would fare better in the final with a more diverse audience tuning in. It could surprise those who watch for the novelty factor by being in a style less readily associated with the Contest. But semi finals have more of a niche audience of fans, and with hardly any buzz behind it within the fan community I can't really see that this has a path to Saturday night.
Monty x