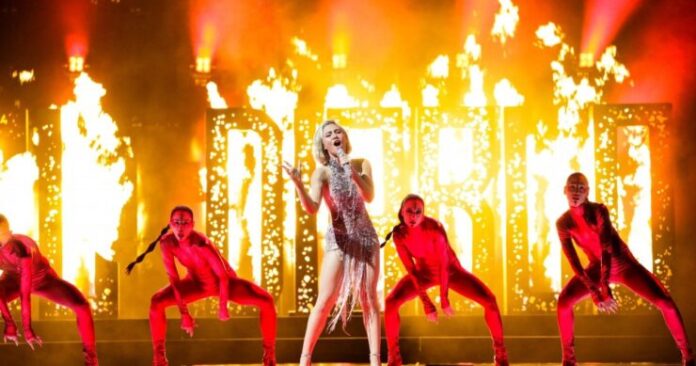 So the first half is over and Cyprus kick off the second half.
Ireland and this are complete contrasts.  First off this is slick, Ireland is not.  This looks like there has been loads and loads of rehearsal time spent on it.  Ireland looks like its been flung together in a CDT class at your local Comprehensive in about 1982.
Nothing much has changed to this – in fact it's looking more secure the more that Elena performs this.  Those backing singers do exactly what they should do, compliment the performance which looks stunning with the red lights and the mirrored backing ramp showing El Diablo at just the right time.  In the final run through there is a flaming gas fire behind her with the words El DIABLO writ large… clearly someone has put 50 cents in the gas meter here.
Nothing at all wrong with this – sailing straight through to the next part of the competition.  Still not a contender for winning the whole lot, but improved enough to get Top 10 I think now.
Image Credits: EBU / Thomas Hanses .