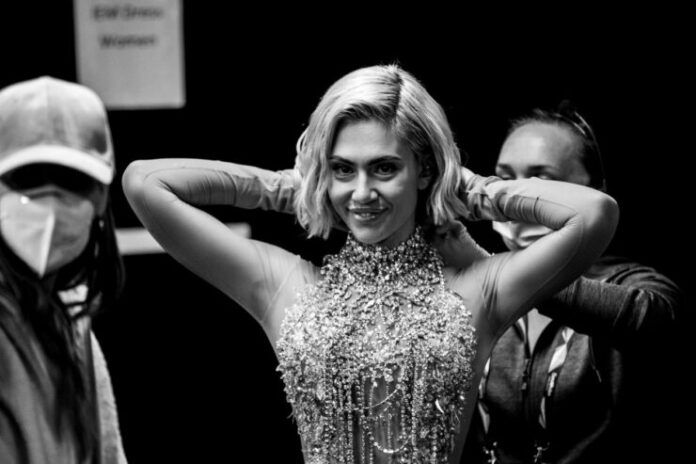 This is my favourite song this year. Yeah, yeah, all that Lady Gaga business – I know. That's precisely why I love it so much. It takes me back a decade to some of the most perfect pop on Gaga's Fame Monster album. Let's see if Elena can bring similar levels of entertainment to her stage show.
After the grief she's had from some of the Orthodox Christians I'm hoping she lays it on thick with the camped-up devilry.
25 minutes in, and we've not seen Cyprus yet. Apparently, it has been shown in the actual press centre but not yet streamed online.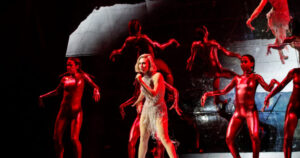 Ah! Here she is. She's in a splendid fringed dress with four backing dancers in red catsuits. There's some great early Steadicam work with Elena in close-up before the dancers are revealed. A mirror behind them increases the effect of there being more of them on stage. Both Elena and the dancers cavort engagingly and twist themselves into all manner of impressive contortions.
The words El Diablo appear on the mirror (or rather, I think, the floor reflecting back), and we get some digital pyros before Elena ends by strolling seductively to the back of the stage before a turn to camera, a sultry look back over her shoulder, and a final whispered "El Diablo!".
If anyone was worried about her ability to do this live, they needn't worry. She sounds great, and it looks great. I mean, it's very Fuego in lots of ways, with more than a hit of Luca Hanni, but if that's a successful formula then why change it? I freaking love this, and this – whatever its placing – is going to be a Eurovision classic performance for years to come.
Now, excuse me for a moment, I'm just off to pop my name down on the devil's dance card. I mean, we all love a bad boy after all.
Monty x
Image Credits: EBU / Andres Putting, EBU / Thomas Hanses .