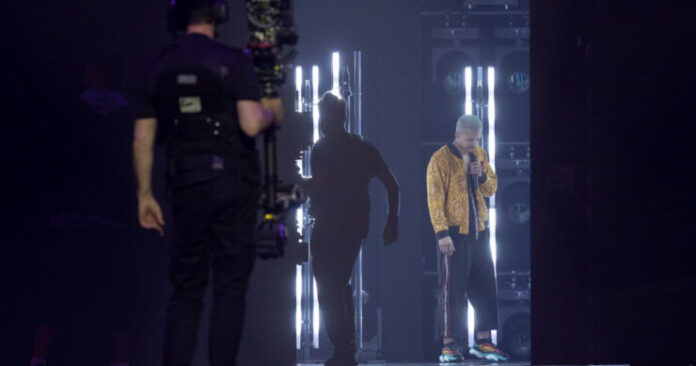 There seems to be a misconception amongst the online press that rehearsals should be full on 24/7 and that every run through should be at full throttle.
This was not at full throttle, this wasn't even at 50% in the opinion of this blogger, and yet you can clearly see Benny's intent. He's shown his hand, as it were (though Monty would prefer him to show other things!).
He's all sparkly in gold and the backing dancers are in various versions of "street" wear: jeans and trainers and beanies. The light towers are so much better than when Slovenia used them so many years ago.  The stage is in all colours and the spots are going and all sorts is going on with the projections but, thankfully, there are not that many wide shots and the cameras stay honed on the action, as Benny gets to the satellite stage and does a bit more dancing and singing, but the focus is clearly on the artist.
When Benny does go full throttle, this is going to do all sorts of business. It looks fun without even trying and vocally it seems that Benny knows what he is doing. This had all the elements of a great rehearsal and, it was, it just wasn't what the online press were looking for.
Image Credits: EBU / Andres Putting .