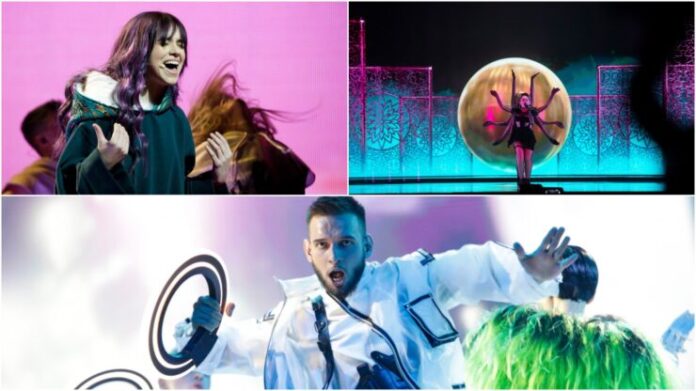 Romania – first rehearsal report here
Roxen's put the work in and tightened up the parts of this that needed work. There are some much more effective shots now, including the moment she's dragged across the stage by a dancer. The oversized hoodie proves to be her performance outfit after all, and her hair's done today too, in just a loose demi-wave.
I think the interpretative dancing is a bit too much. It works well, to a point, but there's an awful lot of it and it tends to overwhelm by the end. I've followed Roxen's journey and the coming together of this presentation but if I was coming new to it, as many viewers will, I might find it all a bit bleak.
Azerbaijan – first rehearsal report here
Efendi picks up where she left off. This still feels like it needs some work to really get the right energy, and I'm loath to say it but there are parts of Efendi's diction that mar the impact. (I'm not knocking an accent or anyone singing in a second language, but simple things like using a w sound and not a v in 'want' is an elementary level error, and it should have been so easy to remedy with a vocal coach.)  It does feel improved, but there's room for her to give us more.
Some better camera works picks out some of the key moments and transitions from one section to another much better. The main impact of the song is the frantic ending, and this does help to elevate the overall impression as it ends. Is it enough? If I were to pick a couple of pop girls who might be in trouble Efendi and Eden would be top of the list.
Ukraine – first rehearsal report here
You'll have read Phil's post that lead singer Kateryna has to miss this afternoon's rehearsal as a precautionary measure after feeling unwell. She awaits the outcome of a PCR test under the organisers' Covid protocol. The rest of Go_A have tested negative. We're promised a stand in. It's a nervous wait for the band, and it would be a terrible shame if they have to revert to their taped back-up. If any singer can skip a rehearsal and slot back in after a negative test it's this one though. She was effortless in round one, and doesn't have a great deal of choreography.
The stand in – Danie – is great! She's done an excellent job. Maybe she could be a permanent reserve? Go_B, if you will?
It's perhaps unfair to judge on the basis of this, though on the basis of Sunday's knock-out rehearsal this is absolutely ready for the stage should Kateryna be allowed back.
That's your lot for today, folks. If you want a little more of me (and why wouldn't you?) here's a recording of the Zoom chat I had for OGAE UK members yesterday discussing the final first rehearsals.
We're back tomorrow and it's a long one! 10am to 19.25 CET, with pressers running until 2040. Get your snack in! We've got Malta to round off this half, then a repeat of Monday with San Marino through to Serbia. We round off the day with first rehearsals from the automatic finalists – the Big 5 and hosts Netherlands.
Monty x
Image credits: EBU / THOMAS HANSES, EBU / ANDRES PUTTING