Afternoon team!
Something that I'm finding from the Cambridgeshire mini press centre is that I keep being pulled away from the screens to do actual household chores. I do miss the immersiveness of feeling that Eurovisionia is the entirety of the world and that if you take your eyes off your banana Maltesers for a second someone will sneak up behind and have them off you. Still, we do what we can, so far I've kept all the plates spinning and the washing up might therefore be tricky.
Back in Virtual Rotterdam, the Running Order Gods have blundered.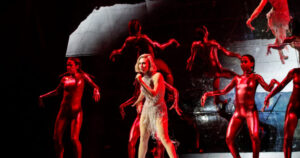 The morning session opened up with Elena Tsagrinou from Cyprus, all dressed in white and silver to question the faith while being challenged by a troupe of four demons writhing and generally making shapes around her. It's absolutely what you'd expect to see from Cyprus in modern Eurovision and she makes a good job of it – probably not another Fuego, but that was lightning in a bottle, and certainly an upgrade on Replay. A simple and solid showing. I like.
Next up Norway's TIX was all dressed up in white and silver, questioning the faith and being challenged by a troupe of four demons writhing and generally making shapes around him. Ah. It's a Kinder Dieser Welt/Children, Kinder Enfants problem all over again, and I think it's probably TIX that suffers from the comparison. Not much was changed from MGP, but for all that he's delivering what he wanted to, the plan that the staging would be an outstanding, unique, memorable visual moment suddenly seems somewhat undermined.
Albina for Croatia, conversely, gave me a pleasant surprise. Not a single thing about her performance is remotely original, but somehow it managed to look fresh. The various interactions with the background looked well-planned and well-executed, and when the LED screen screams "OH NOOOOOO!" behind her I could actually feel a million memes being born in a split-second. It's still the pop song, the one with the girl (and the dancers), but it's well realised.
Finally Belgium's Hooverphonic, who still get on my wick, but I think they'll be happy with the visual effect they've put together. The simple conceit of putting the vocalist at floor level with the musicians all raised up on their own individual podiums is a very neat and slightly unsettling visual shorthand for being "in the wrong place" without being too blatant about it. My major issue now is "Can I be bothered to find out if the last line is indeed Don't you ever dare to wear my doggy's nasty shoes?" and I think I'm just going to assume that it is.
No rest for the wicked – all this talk about Hooverphonic reminds me that I really need to get the bedroom floors vacuumed. Back later with a round-up of the rest of the day!
Image Credits: EBU / Thomas Hanses , EBU.