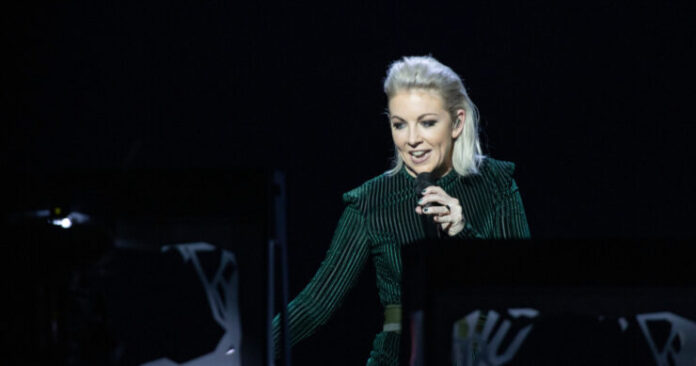 This is too busy and there are too many elements in this song to make it work properly.   There are lots of nice ideas in there, with the flickbooks and the grey cut out figures but, as I said on Saturday, there are so many elements to this staging that it will only take one missed lighting cue or one slow flickbook flick to wreck this song.
Lesley seems to be better on the vocal today, mind you that wouldn't be difficult, but it is lacking the power that a lead singer should have when delivering a song for reasons that we aren't gonna be fully sure of.  I suspect that having to do things and move and remember timings is not helping.
The first run through was recorded today and that was a shambles.  Lighting cues were off, the flickbooks were too dark and not lit up and I'm not sure if all of her paraphernalia in the background is supposed to be seen on the long shots of the hall. (Apparently is is according to the second run)  Lesley looks a cross between worried and pained at the end of the run throughs and I can see why – something is not working for her.
What's not working for me is the whole concept and as they are tied to it, and may have been for the last 18 months, it just doesn't work.
Qualifying?: No