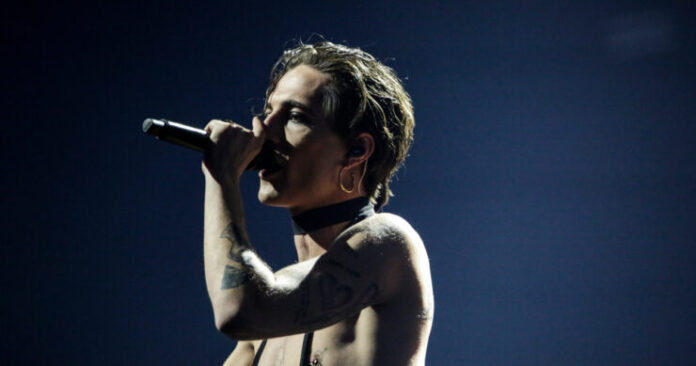 Finally! It's our first look at the six automatic finalists. The order this afternoon is Italy, Germany, Netherlands, France, UK then Spain. Any press in the arena will be guided out as these are closed rehearsals.
Måneskin have a band set up with the drummer atop some steps, which light up along the rise. The singer Damiano strolls nonchalantly onto the stage, shirtless, showing off his tattoos, and with shiny tight-thighed, flared-leg glam pants. It is, of course, a riot of glorious noise! The stage is awash with solid reds and blues, and the band appear in dup- and even triplicate, as giant silhouettes on the backdrop.
Måneskin enter the Eurovision stage without the momentum of Sanremo and without the additional energy of live violins that really lifted this in their performances. Can they build enough support with an international, rather than domestic, audience?
Whilst they're making the most of the expansive stage, they're at times a little too spread out to feel like a cohesive group. It works much better when they're in a tighter formation with some interaction. This needs to feel like chaos, but a finely choreographed kind of chaos that catches just the right shots without losing any of the raw, frenetic buzz of the band's style.
This is good. If the same sense of growing momentum can build around this as it did in Sanremo we might finally get that dream pizza-filled Italian Eurovision. It's not the style I'd usually warm to but I'm 100% behind this.
Monty x