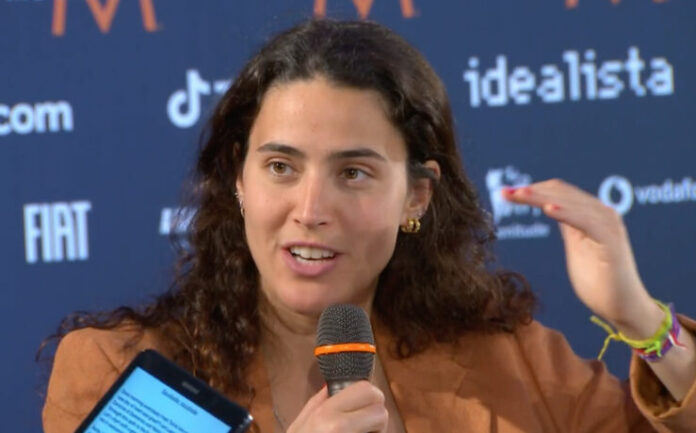 So first up on Day 2 were those happy Portuguese!
Maro tells us that this song links to her late grandfather and grandmother (which explains why it is so downbeat) – The song is almost an ode to love.
Her favourite Eurovision song is Salvador Sobral's 'Amar pelos dois' from 2017, and he had told her that doing Eurovision was just "wow" and to enjoy it and to have fun. One of the band said "Playback" as her favourite song.
Impossible to translate
Saudade is a word that is not translatable into English, but the song is all about loss and, at the same time, celebration – that's certainly one hell of a juxtapose!. As usual the Spanish fans ask Spanish-centric questions about Spain loving the Portuguese song, and people wonder why the fan press is kept to the margins!
Maro says she has not seen much of the city yet, but they have been and eaten Pasta … well they are in Italy. She says that she has been doing a duet with Eric Clapton and used her web series "Itsa meee, Maro" as an outlet through the pandemic to keep herself creative.
In a circle, singing
She declines to mention any of her favourite artists from this year, apart from Amanda from Greece… So Amanda from Greece then eh, but they do not have a favourite song … yet. She says that everyone is cool and different. It also seems that they have done nothing different from the national final performance, with the girls all being in a circle singing, making it more intimate, and for Maro it's the biggest pleasure singing with her friends. Saudade, she explains, doesn't have to mean sad – it's one of those words that means whatever you want it to mean.
Maro studied at Berkley College of Music and she says that her appreciation of performing came from three years spent there. She says she misses some things about it, but now she has moved into a new chapter in her life.