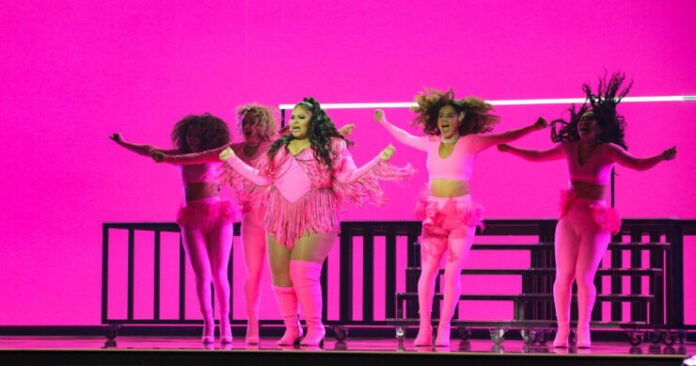 There are a couple of unspoken rules in Eurovisionia.  The first one is "never write about a first rehearsal run through" – well they have dispensed with that because we don't get to see it anymore.
The second rule is wait until the final camera rehearsal before putting anything down in writing, which is exactly what I am doing, because if the rehearsal I just saw was that second go, there is a lot of tidying up to be done. That was a big big mess, and I'm saying that as someone who loves this song. There was a large element of Destiny not being comfy with what was going on around her.- which amounted to a lot of missed lighting, cues and camera shots from AVROTROS and a mis-step (shall we say) from Destiny's styling och consulting department.
If you are going to sing about being a diva, dress her like a diva. Do not dress her in the sartorial equivalent of a pink blancmange and contrast *that* colour scheme with a yellow background. Pink and Yellow, what were they thinking? The vocal is, was, and won't be in question. What I have questions about is how on earth did anyone with any TV training think that colour combo might be a great idea? Have the backing dancers in silver and Destiny in the red (video) dress, for goodness sake. Have some words on the background. Have literally ANYTHING ELSE other than what I've just been presented with.
The costumier also made a cock-up with the boots. I thought she was in thigh-length leggings and my eye was slowly drawn to distraction of the right one coming down throughout the song.
The final camera run-through was a gazillion times better. Destiny appeared confident, and was singing better, but all of these niggly things remained a problem, and I don't know how much time they are going to have to ensure that something coherent gets presented on stage.
Image Credits: EBU / Thomas Hanses.