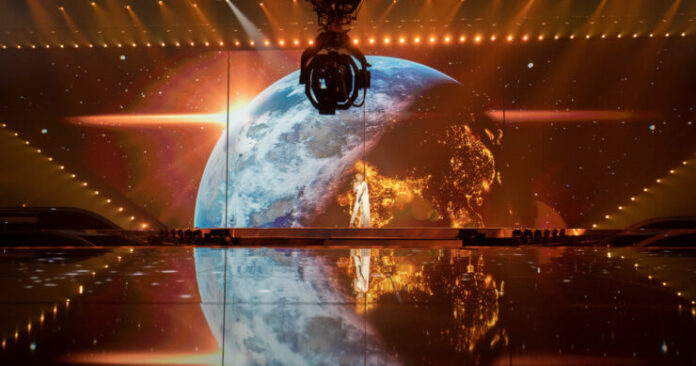 Song-wise it could have been a stronger start to the morning for me. I'm afraid that on top of not especially liking The Roop, Slovenia's Ana Soklič also doesn't set my heart a-flutter with her Amen, but let's pray she can make something out of it here. She's clearly a great singer, and they're giving her a great stage.
We're treated to a repetitive voiceover testing the one 'one-two' sound as her first run through is obscured on the stream. Once she arrives, she's sporting a white pantsuit, off the right shoulder, and with a floor-length cape hanging from the left. She's barefoot: I didn't have her down as the Sandie Shaw of Ljubljana. (By the final go she's actually popped some stillies on; maybe she's sensibly saving her feet to wear some definitely not sensible shoes when it counts?)
What's the set-up?
The set has golden graphics, rushing at you a bit starry-space-like, and they evolve into a globe showing the earth at night, illuminated by the artificial lights of urban cities. Later there's some shots of the American mid-west mountains.
Ana's the first of the Class of 2021 to use the catwalk, strolling down it accompanied by a gospel choir, unseen, who may, or may not, be doing it live, to deliver her big crescendo, accompanied by a burst of gold on the screens behind her and beneath her feet. She certainly makes the best of the moment.
Vocally this suffers from the same issues I identified in my Countdown review: I feel some of the notes are too short to ever let her impressive voice fully inhabit them, and because of this I feel she's selling herself a bit short. Literally. It's a shame, as if her voice was just allowed to soar I feel she'd have a better chance.
Monty x